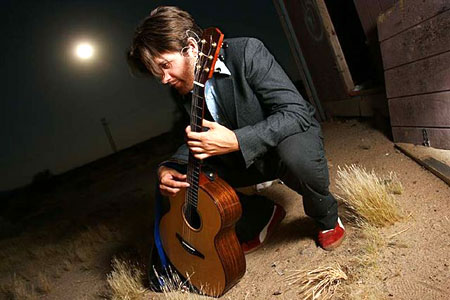 Nathan McEuen grew up in and around the Rocky Mountains, Surrounded by incredible music and talented musicians. At an early age He started performing with his father, John McEuen (Nitty Gritty Dirt Band), and brother, Jonathan McEuen (Hanna-McEuen). Undoubtedly, the family has powerfully shaped his musical inclinations and style, but his influences and pursuits span much farther. As a singer/songwriter, he constructs universal, nostalgic melodies and lyrics. His study and mastery of several instruments, including guitar, piano, drums, and bass, allow him great compositional range.
Nathan McEuen
Three years ago, Nathan moved to California to continue pursuing his music career. In that time he has created his first solo record "Grand Design," performed on the Tonight Show with Jay Leno, opened for David Crosby and Gram Nash, Dave Mason, Kenny Loggins, Nitty Gritty Dirt Band, performed with Kevin Nealon (SNL), worked with Paul Willams, Willie Nelson, started his own record company called "Lint Records," and has played over 500 shows.
Watching and learning from the best, Nathan used those experiences to hone in his craft of songwriting, performance, and collaborating. Feeding off of all that energy Nathan decided to start his own record. With the producing help of his brother Jonathan, they formed a concept for the album – a nostalgic sound with a hip spin… "Future-retro-folk-rock." They started in spring of 2004 and a year-and-a-half later finished creating: Nathan McEuen's "Grand Design."
Grand Design features 11 original songs, some of which came about through collaborations with singer songwriters David James Holster (John Denver, NGDB, Starship), and Crosby Loggins. The album features many talented musicians including: Mario Calire (Wallflowers, Ozomatli), Randy Tico, Jonathan McEuen, Jimmy Calire (America), Phil Salazar, John McEuen (NGDB), and Jesse Siebenberg (Supertramp).
Grand Design was released in November 2005. Since then Nathan has been on the road promoting his new record and is continuing to build a large following.
Currently on tour with :
Nathan McEuen and his Enormous Ego Band. Featuring: Nathan McEuen (guitar, vocal), Paul Cartwright (fiddle, mandolin, vocal), Chuck Hailes (upright bass, vocal). They play a wide variety of musical genres… From Folk to Bluegrass, Rock to Country. There are only 12 notes in music and they do a good job at showing them off.
This group will not disappoint!