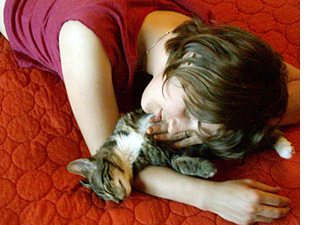 With roots in bluegrass, blues, jazz, traditional folk, and old-time country, singer-songwriter Naomi Sommers is emerging as an exciting voice on the music scene. She grew up in a New England home full of music and instruments, performing since middle school with her parents and brother in the Sommers Rosenthal Family Band. Naomi's recording career started at age 5 when she sang her first harmony parts on an album of bluegrass music for children. Over the years she has sung and played flute, banjo, piano, and guitar on more than 15 records released on her father Phil's independent American Melody label, and has lent vocal and flute tracks to numerous recordings by other artists. In addition to the folk and bluegrass music she picked up at home, Naomi performed in orchestras and wind ensembles as a classically trained flutist, sang jazz with her brother Daniel Rosenthal's quartets since high school, and joined the gospel choir during college.
After studying literature and music at the University of Connecticut, Naomi devoted herself full-time to writing and performing. She moved to Boston in 2001 to begin a solo career. She played at favorite local venues including Club Passim, where she endeared herself to music fans and fellow musicians alike, and began lasting collaborations. She toured throughout the U.S. with songwriter Noam Weinstein as the duo Broken Dreams, and later followed some of the same routes as a Gray Sky Girl with Lisa Bastoni. In 2004, Naomi traveled to Texas to participate as a finalist in Kerrville Folk Festival's New Folk Songwriting Competition.
More recently, Naomi was invited to be part of an upcoming PBS documentary, "On The Record," hosted by Sir George Martin and narrated by Kevin Spacey. She traveled to the home of Jean Ritchie to play a few songs with the influential folk singer and songwriter on film for the series.
In July 2008, Naomi performed one of her songs at the GRAMMY Foundation's Starry Night Fundraiser in honor of Sir George Martin (producer of the Beatles and many others). At the event in Los Angeles, she shared the stage with Jeff Beck, Burt Bacharach, Chris Body, Tom Jones, Jimmie Webb and others.
Since 2002, Naomi has put out three albums on American Melody. Two of these were solo albums, featuring original songs with eclectic backup by her family and other outstanding musicians. In 2006, she released a mesmerizing album of traditional and original "old-time country slowgrass" with the Gray Sky Girls.
Now, in early 2009, Naomi has just released an album recorded in Nashville, produced by the acclaimed musician/producer Jim Rooney (John Prine, Iris Dement, Nanci Griffith, Bonnie Raitt). Jim's enthusiasm over Naomi's songs and her voice prompted him to end a hiatus from the music business to make this record. The album was engineered by David Fergusson (Johnny Cash/Rick Rubin) and features a backup band of some of Nashville's finest musicians. Naomi's trusted family and friends traveled from New England to play on the record as well. She is thrilled to present the resulting collection of songs, the culmination of years of devotion to the craft of songwriting and to the merging of traditional and contemporary styles in American music.