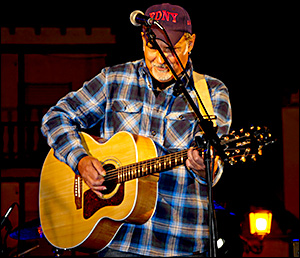 Born and raised in Rio de Janeiro's 1960's art scene, Marco R Wagner's mother was an accomplished piano performer and his father a successful painter from Spain. He lived in his father's country in his late teens where he had his first public performances and was soon part of Madrid's renowned art and cultural revival, La Movida. In 1980 after 2 years of conservatory studies in Madrid, Marco decides to move to New York City to pursue his dream of being a singer songwriter in the tradition of Bob Dylan, James Taylor, Jackson Browne or Dan Fogelberg. Drawing upon his Brazilian roots and Spanish guitar training and his work in New England, Nashville and Europe, he has continued to be a sought after performer, guitarist and session player on both continents.

Marco was part of Boston's coffee house scene briefly in the 80's, but moved to Nashville after recording his 1st album in New York City. In Music City in the early 90's Marco was part of a new budding generation of singer songwriters who flocked in from other places, such as his friends Matthew Ryan, Ricko Donovan, Jana Stanfield or Richard Mekdeci. Other classmates from the East Nashville scene included David Rawlings or Josh Rouse. He collaborated with local artists and performed with mainstays such as Dolly Parton, Jana Stanfield, Julie Gold, working as a member of the World Peace Choir and the Peace Celebration Band, which included ex-members of The Byrds, Guess Who, Orleans, New Grass Revival, and the Wooten Brothers. Marco has also toured with artists such as Sid Griffin, Lou Marini, or Gene Taylor.

In Nashville he formed the popular band The Joytoys who published a collaborative effort, "Come Out And Play!", and his own back-up band, Worlds Collide, with whom he later published an eclectic album in Europe. He had already put out 2 albums of original songs "What's Love Remains" in 1991 and "Poet, Painter And Cowboy in 1994, which his European label has now reissued. His band effort, "140 Reasons" in 2006 was a candidate for the Spanish Academy Of Music Awards in 2 categories. Best Rock Album, and Best Album. His acclaimed and powerful anti war single "Democratize" has since been featured on Neil Young's website.

Also produced by himself, his 4th effort "My Old Spain" in 2015 is an original americana collection of songs with stellar collaborations of resident artists such as Jeff Espinoza and Ramón Arroyo, and has garnished rave reviews all throughout Europe. Several Records now releases Marco's latest album, "Music Love Magic", an exquisite collection of songs laced with countless acoustic guitars and vocals interpreted and produced entirely by him.

Marco currently resides in his father's hometown in the mountains of Spain where he also runs a weekly radio program, 'In Between Worlds'. He is endorsed by Avalon Guitars.