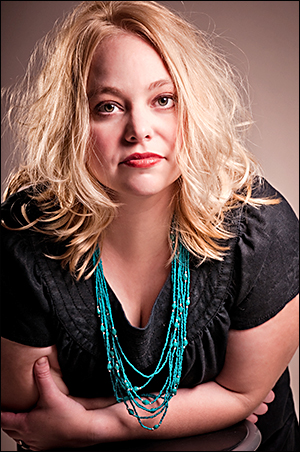 For Lynn Jackson, it is all about the songs. 10 years and 6 albums into her recording career, the one constant fans have come to expect is top notch songwriting and that voice.
"When I write a song, I often hear the arrangement fully formed – I let the songs lead me into whatever direction they want to go. I guess I'm considered a folk-roots artist, but if my writing and ideas take me outside the genre, I'm not afraid to stretch out creatively. There are no rules when it comes to songwriting."
To celebrate her 10 year milestone and bookend that part of her career, Lynn is gearing up to release her new album "The Acoustic Sessions" on Busted Flat Records. Released as a duo album with her long-time collaborator Chris Boyne, the album revisits 13 songs from her past albums in a more sparse acoustic setting.
"Chris is a really talented songwriter and multi-instrumentalist who fronts my one of my all-time favourite bands called Sexdwarf. We've worked together for the past five years and he is often my accompanist when I play live. The idea behind this recording is to give people a little taste of what we do in concert. Everyone on the record has played live with me in some form or another."
Recorded basically live off the floor at Norman Blake's (Teenage Fanclub) home studio, "The Acoustic Sessions" showcases the strength of Jackson's writing with the songs nestled in arrangements that are tasteful but minimal.
"On the original recordings, some of these songs featured strings, electric guitars, piano – much bigger arrangements. The tracks on the new album are closer to how they sounded when I wrote them. But instead of just releasing bare-bones version of the songs, I've fleshed them out a bit with upright bass, pedal steel, violin, national steel – still minimal, but with a little extra sparkle here and there. Norman has a great ear and captured everything beautifully."
Mark Logan of Busted Flat Records says of Jackson; "I never know what to expect when Lynn hands in an album. To go from something like 'Restless Days' which is pretty gritty and electric to 'Soft Stars' as the follow up which is primarily piano and cello, it's always interesting and unexpected. Lynn's records are always deep with songs and reward repeated listening as the songs reveal themselves."
"'The Acoustic Sessions' feels to me like marking the end of a chapter. The songs I am writing now are leading me into a more atmospheric electric direction. Some are going to feature my 4-piece band with me playing electric guitar on some of the tracks. I'm going electric - It's exciting!"