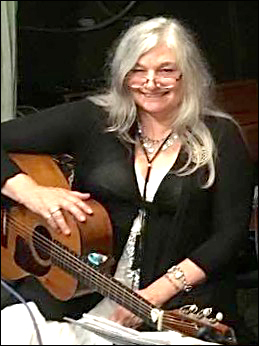 Lorin Hart has been writing songs about basic issues of love and trouble for most of the time since she left the snowy pastures of Northwestern University and dove into the whirlpools of Haight Ashbury, Woodstock, Cambridge, Greenwich Village, Coconut Grove and Fayetteville, Arkansas.
After years of partnering with her guitar slinger husband, and running around briefly with the likes of Tim Buckley, Leonard Cohen, Phil Oaks, Country Joe Macdonald and Lucinda Williams, they split up and she kept half the debt, her guitar and the kids.
She recorded her 1st solo CD "Breathe" with Hal Blaine and Don Randy of the famed Wrecking Crew some years back, which brought her air play around the country, as she continued writing while finishing raising up her spectacular children. She has now released her 2nd album "Love Come Back", featuring Jim Keltner, and looking forward to many more years of finding ways to tell her story in song.
The famed Paul Zollo would have her tell you she is also the grandaughter of renown early silver screen stars, John Gilbert and Leatrice Joy.