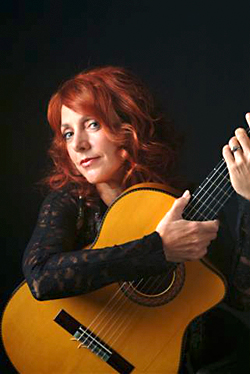 Liza Carbé is a bassist, guitarist, vocalist and composer based in Los Angeles. After years in the music industry, she finally has her first solo CD available, "Wait For The Spring".
The vocal music, forged in a modern, yet timeless new age style, represents compositions as far back as "Songbird", written when Liza was 19, to last year's creative work "Wait For The Spring", inspired by the passing of Liza's mother.
Liza is perhaps best known as one of the co-founders of the internationally acclaimed, Billboard-charting latin-guitar-world-fusion group Incendio.
In 1999, Liza and her husband and partner JP Durand started working with guitarist-composer Jim Stubblefield. Together they formed the latin guitar world fusion group Incendio. Their first 2 CD's charted on Billboard, CMJ, and various other charts. To date, they have now released 7 CD's and a DVD internationally, and tour around the United States and beyond for an average of 120 dates a year at festivals, theatres, clubs and cultural centers.
Liza's life is a total immersion in music and the creative process. She is so pleased to finally be able to share her first true solo CD "Wait For The Spring".