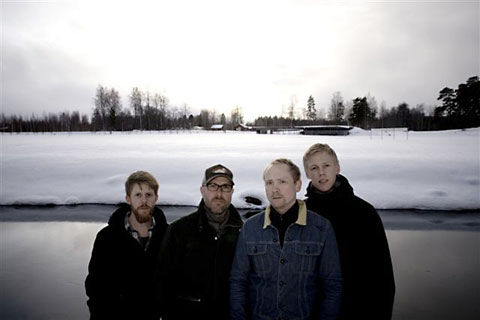 It may seem unlikely that one of the most interesting bands in the genre often referred to as Americana, resides in the city of Gothenburg, Sweden. This is, however, a fact, and their stunning new album "Innocent Again" is here to prove it.
Thanks to bouts of touring and that reliable phenomenon called 'word of mouth', Little Green are starting to make waves in their home country, as well as on the international scene.
"Innocent Again", their 3rd album, is arguably their best so far. With its inventive variations on country, folk, southern rock and jingle-jangle guitars, it will most likely be the album that takes this already highly-respected band to the next level. Little Green always had good songs. This time around, everything else has fallen into place as well. Everything has improved a notch or two or three - Arrangements, performance, recording, mixing, and mastering.
On "Innocent Again", Little Green leave the folky tendencies of their last album behind, and go for a fuller, more electric sound, with some surprises thrown in for good measure. Basic recordings were made in Sven Karlssons and Hasse Carlssons Studio Lydde in the spring of 2010. Additional recordings were done in the States and Thomas Pontén's home studio.
The album is full of highlights. To begin with, it features two duets, "This Is Our Life" (featuring Lisa Pedersen), and "I Can Talk Again" (featuring Keith Miles). "Innocent Again" features background vocals by Kimmie Rhodes, whose songs have been recorded by several major artists, including Emmylou Harris and Mark Knopfler. A songwriter's songwriter who enjoys a lot of respect from her peers. Ted Russell Kamp, with whom Little Green will do their fourth tour in August, adds backing vocals to a couple of tracks. The subtly Dave Matthews-inspired "Upside Down" describes a poor person's upbringing, from a Swedish point of view. "Don't Tell Me It's Over", an old song that was re-worked for Little Green, now features a southern rock groove that let the rhythm section stretch out a little. The majestic closer, "The Band Played On" is reminiscent of The Jayhawks and Ryan Adams, with a touch of swedish folklore.
The nucleus of Little Green was born in 2004, when Thomas met singer-guitarist Andreas Johannesson. "We actually bumped into each other due to the fact that our children were the same age", remembers Thomas. It soon transpired that both of them were making home recordings of songs, but had started to feel the urge to perform the material live. Their musical tastes were similar, but not identical, making for a great blend of styles rooted in rootsy american music. Andreas' laid back personality, great ear and smoothly raspy singing style blended well with Thomas driven personality, and more intense style of playing. In 2006, they started performing as a duo, mixing original songs with material by Tom Waits, Carly Simon and others. Deciding to apply for the Swedish Country Championship, they made it to the finals in the alternative country genre. They were joined by additional members on bass, and pedal steel. For the following year's championships they added banjo and fiddle to their sound.
"Hardcore bluegrass musicians mocked us because we had a drum kit, but for us the styles and instrumentation are not as important as the songwriting, which is the core of the band", says Thomas. "Several of my older songs have been re-worked to suit the Little Green sound, whatever that is".
For a while, their music was labelled Acousticana. But things were about to change. Undeterred by the hostile reception Dylan got in the mid-sixties, the band decided to "go electric" in the spring of 2008, when agreeing to do their first tour with fellow Americana artist Ted Russell Kamp. Kamp has released several well-received solo albums, as well as being the bass player, and sometime songwriter, for Shooter Jennings. "I dusted off my electric guitar, and influences by Little Feat and The Band, and Californian singer-songwriter and country-rock influences slowly started creeping in", remembers Thomas. Open-minded listeners may also be able to detect another, more unexpected ingredient: British new wave pop. "I was always a sucker for three minute pop songs, as recorded by Elvis Costello, Joe Jackson and XTC in the late 70's and early 80's. This to-the-point approach surely suits their lead singer. "Andreas rarely feels like jamming", Thomas smiles.
Karl Wassholm was the third member to join Little Green. His fellow bandmembers describe him as a very musical guy with diverse musical influences: he's a Bright Eyes-fan with metal roots which makes for a sensitive player who can turn into a powerhouse bassplayer, when needed. Jonas Holmberg comes from the south of Sweden, and is the most recent member to join Little Green. Having spent most of his adult life on the road, he has toured with major Swedish "dance bands", worked as a truck driver and now studies to become a pilot.
What makes Little Green different from American bands is the Scandinavian vibe that complements their knowledge of the Great West, It can be traced in the melancholic and reflective lyrics and subtly Swedish folk harmonies. "European DJ's tend to like the Scandinavian vibe. Hopefully it's the best of both worlds", says Thomas. "We are influenced by everything we hear, and we certainly don't pretend to be an American band". Americans tend to love them, though, and Little Green have done three tours co-headlining with Ted Russell Kamp, as well as being his backing musicians. Just like The Band (and, later, Tom Petty & the Heartbreakers) did with Bob Dylan. Needless to say, they look forward to touring together in Sweden again in August.
Until then, listen to "Innocent Again" by Little Green!