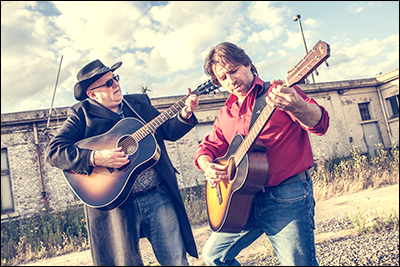 Walter Lathouwers and Bart Barbier. Opposites by look, complementary musical. There is no better way to describe this Belgium based singer songwriter duo.
Walter started playing guitar at age 8. As a self taught singer songwriter he sang and played wherever he could. Through the influence of the bands of the early 70's, he evolved as a musician with a broad interest in blues, pop and rock.
Bart started playing classical guitar at age 7. In his teens he discovered the electric guitar and sounds of Jimi Hendrix and Richie Blackmore, which were the first main influences. In 1996 he joined the 'De Til, Music Univerity' in Antwerp. Afterwards he became a guitar teacher and, occasionally, a session guitarist.
They started writing music together in 2015. Very early on they realised that this process was going far too smooth and in the fall of 2015 they deceided their music needed a platform. So the acoustic experience was born and a first try out gig was planned for Febuary 2016. The reactions were so positive that in the next weeks, new gigs were flying in. A few months later they composed more than enough songs to fill a complete album, and the plans for their 1st full album were born.
In June 2016 they entered the Sputnik Studio in Schoten and recorded their 1st full album "No Time For Rock'N'Roll" in an intense period of just 3 days. The album has just been released. It features 11 original songs and 1 remarkable cover of Bob Dylan's "The Times They Are A-Changin'". The music has a big 'in your face' feeling in the most positive way and shows a remarkable musical craftmanship in songwriting and performance. Their style is a sweet marriage of all american and roots based styles of music. From heartland folk, rock to delta blues and so muck more.
Gradually towards the end of 2016 some local radiostations in Belgium and the Netherlands started broadcasting their music. At this very moment, the beginning of 2017, they are full speed ahead in promoting the released album and writing new material for the next step. Lathouwers & Barbier is live already joined by singer An Cornillie and they also started rehearsing with a full band.