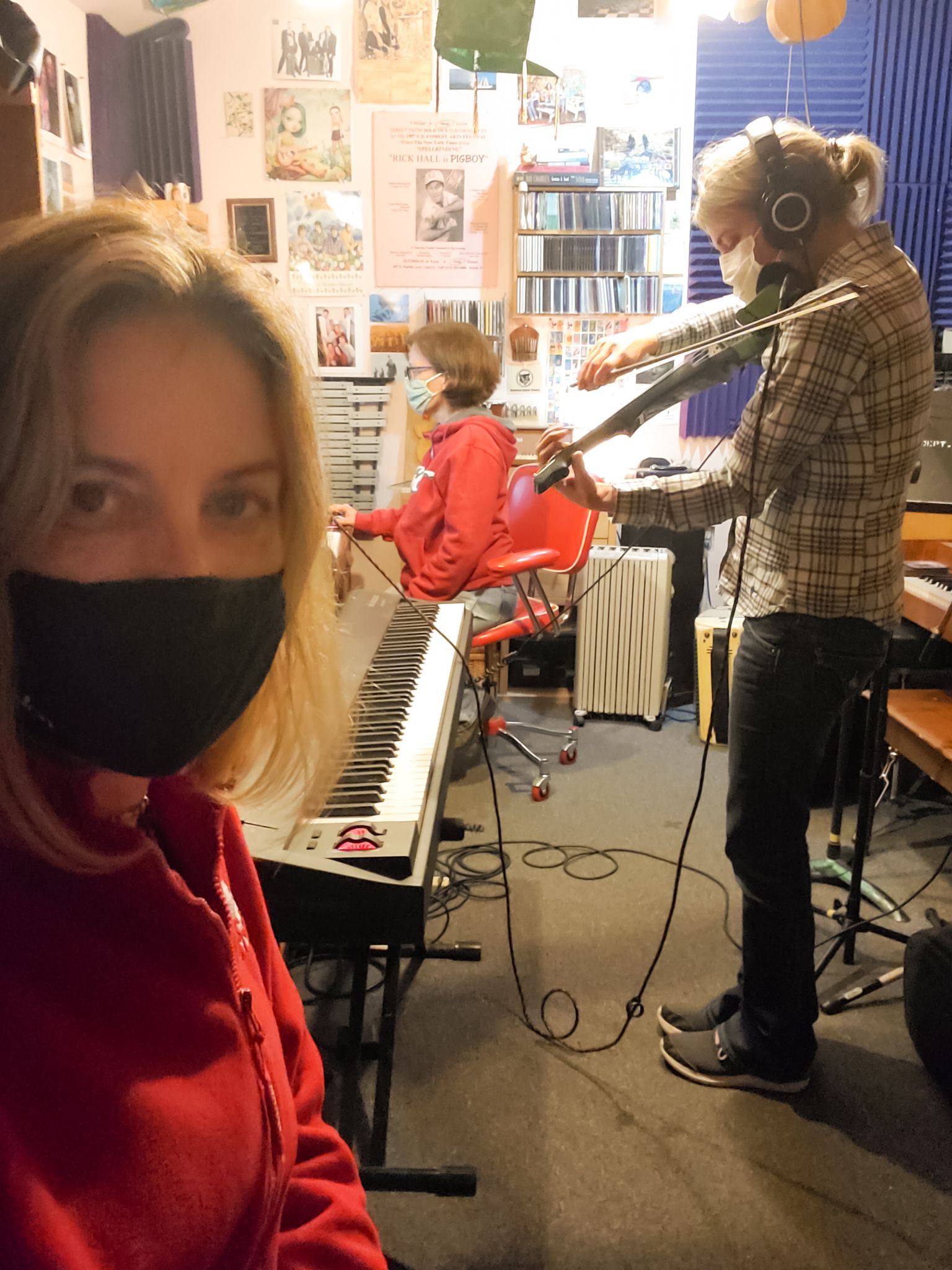 Lady Psychiatrist's Booth is the combined americana forces of Ashley E Norton, lead singer of Whitherward, Stephanie Groot, violinist of Whitherward, and Laura Hall, music director of hit TV show, "Whose Line Is It Anyway?".
After months of cancelled concerts and unemployment checks, the women of Whitherward decided they needed to make something of this unwanted found time. So Ashley invited Phoenix based Stephanie to her San Diego home, and the pair drove to Laura Hall's studio in Los Angeles to record four of their favorite songs and a couple of bonus tracks.
With masks on, the trio recorded as many weird instruments as they could, anything was up for discussion except for bass and drums. The idea was to keep it acoustic plus. And keep you guessing as to what exactly you're hearing.
So, what exactly are you hearing? Stephanie Groot on acoustic and electric violin, often with a wah pedal, and mandolin. Laura Hall on the trio's favorite unique keyboard sounds, bass melodica and accordion. Ashley E Norton on acoustic and electric guitar and percussion.
And of course this didn't happen without the help of their friends Bradley Stevens, Liise Russell and Bruce Blied on background gang vocals for a little bit of fun. With mix master Rob Chadwell out of Florida and cover art from London artist Roxanne Fedeuic, an EP is born.
As for the songs, all are written by Ashley E Norton, except for a Portishead cover, "Glory Box", by Beth Gibbons, Adrian Utley and Geoff Barrow, "Heritage Flakes," a fake jingle for a very real cereal by Stephanie Groot, and "Neighbor Intro" which features the classic Mr Rogers theme song by Fred Rogers and Johnny Costa alongside a classic Shakespearean sonnet. Whitherward doesn't typically record covers but "Glory Box" has been one of their favorite songs to perform live over the years and it felt right to capture it in the studio.
The rest of the project takes you on quite the journey. Starting with creepiness about an obsessive neighbor who takes things too far. Ashley was inspired by a nameless friend who developed an innocent crush, but the 2nd half of the song is completely made up, or is it? "Belly Of The Best" is inspired by Ashley's sister Tara Norton's work in sustainability, trying to save our precious planet from inside companies. As for "Birthday Suit", this was originally written to sing to people at live shows as Ashley became exhausted with the constant requests for the traditional "Happy Birthday".
"So I decided to write my own damn birthday song", says Ash. "Unfortunately, it leaves most audiences quite uncomfortable when directed at them. But is a hell of a lot of fun". Lady Psychiatrist's Booth comes from an actual booth Ashley and Stephanie literally stumbled into at a bar called Vesuvio on a Whitherward tour through San Francisco. They proceeded to take a slew of photos and
couldn't stop laughing at the one that ended up on the cover. With a little bit of photoshop, there was no better title for this project. A little bit creepy, a little bit funny, a little bit dark and a whole lotta heart. Just the way we like it.