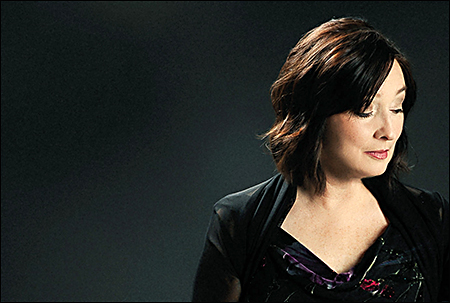 Recorded in Toronto, under the experienced guidance of producer Danny Greenspoon and double bassist Joe Phillips, who created beautiful orchestrations, Kim Erickson's new album"The Raven's Wing" features some extraordinary arrangements for small string ensemble, masterfully executed by some of Canada's best players. "The Raven's Wing", which features guest appearances by Kim's daughters, Roisin and Lesya Roberts, marks the 25th anniversary of her debut album "The Intention, The Blue".
Kim Erickson's lyrics for this group of songs speak of lost loves and the lure of great waters, walks by northern shorelines, through autumn gardens and rugged old world landscapes. The music is lyrical and romantic, conjuring dark string sounds, and Kim's interpretation is deep and intense in bringing her compositions to life. Audiences who enjoy folk, jazz and classical fusions will crave this recording.
Kim is a performer, composer and music director of soundscapes for theatre and radio. She received the 2008 CJ Arts and Heritage Award for Media and Performance Art. She has performed her original work across Canada and overseas. She has worked as a solo artist, in duos and ensembles, and in the acoustic trio Canto. Her work has been recorded and documented in various media (sound recordings, film, television, radio).