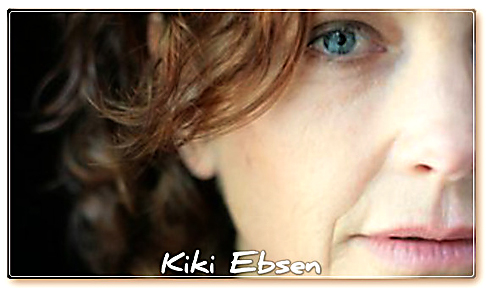 Kiki Ebsen, an accomplished singer and songwriter, known for backing up such artists as Christopher Cross, Wilson Phillips, Boz Scaggs, Tracy Chapman and many more, introduces her first original CD in five years. Already with four CD's under her belt, her latest endeavor is an impressive collection of thirteen self-penned tunes inspired by her own real life stories. The CD is beautifully packaged in a full color digipack filled with pictures and lyrics for each song. Taking a candid look at her own relationships, Kiki carries the listener on an emotional journey of honesty, passion, purpose and peace as she negotiates her way through her own darkness and eventually back into the light. This CD is sure to connect with everyone who wishes to dig deeper for the truth in their heart, past the superficial, to find... "The Beauty Inside".
Kiki started playing piano as a child, following in the footsteps of her mother, aunt and grandmother. She wasn't the only one, her cousin, Jim Pugh, is a keyboard legend and part of the Robert Cray Band. Picking up melodies effortlessly by ear, she began composing her own songs at an early age. She pursued her love of music balanced by her love of animals and nature while growing up in the coastal town of Balboa Island and on a ranch in the Santa Monica Mountains. She honed her chops in countless garage bands and eventually earned a degree in classical voice from California Institute of the Arts. Just out of college, Kiki won Collegiate Entertainer of the Year and embarked on a touring career with the legendary band, Chicago, as a keyboardist and MIDI tech.
Two tours and one record later she left them to join Al Jarreau's touring band. They performed on Johnny Carson's 'The Tonight Show' and the Arsenio Hall show before embarking on a world tour. The band featured future stars like N'Dea Davenport (Brand New Heavies), Rickie Minor (American Idol, Jay Leno's Tonight Show) and Felicia Collins (The Late Show with David Letterman).
Kiki's first CD "Red" was produced by hit smooth jazz producer Paul Brown and features inspired performances from Boney James, Buzz Feiten and Paul Jackson Jr. It was dubbed "the kind of debut most artists can only dream of creating" by the Mac Report. She went on to play live with a succession of artists including Belinda Carlisle, Bill Champlin, Peter Cetera, Tracy Chapman, Michael McDonald, Stephen Bishop, James Ingram, Jeffrey Osborne, Boz Scaggs, Christopher Cross, Dave Koz, Colin Hay and Wilson Phillips.
She found time to record another original CD, "Love Loud", with Mark Browne producing, which made the Muse's Muse Top 10 of 2002. She later reunited with Paul Brown to create "Kiki", which was added to Steve Quirk's Fusion Flavors Best of 2005 list. Says Steve, "Kiki is a sleeping giant in contemporary music, who deserves to be heard". She released a cover CD last year of her favorite songs called "Cool Songs Vol 1". She hopes to do one every couple of years. "There is just too much great music out there". Kiki's music appears on several compilations worldwide. She has opened for Christopher Cross, Peter Cetera, Emmylou Harris and Al Stewart. Kiki sometimes appears singing and playing with the Christopher Cross band. Kiki's latest album, "The Beauty Inside", is a very personal collection of songs about love and family, it was made more special by the addition of background vocals by her dear friend Kenny Edwards, who passed away only three weeks after the recording session.
Kiki divides her time between writing and performing music and facilitating equine interactive learning programs with her special herd of rescued horses (www.thehealingequineranch.com) ...and yes, she is Buddy Ebsen's daughter.