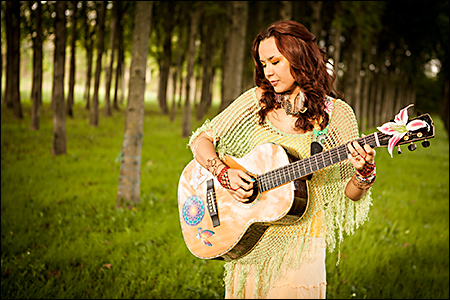 Born and raised in the mountains of Japan to a Japanese father and American mother, Kiana Luna and her two older siblings were home-schooled at the foot of Mt Fuji, until she moved to her mother's homeland of Hawaii in 1999. Kiana learned English by traveling to Honolulu throughout her childhood, so it was a natural transition for her to begin her musical career in a place where she felt at home and had spent time nurturing her multi-cultural roots.
Kiana's first musical influence growing up was her mother, who was a folk singer in Hawaii during the 60's, and then later expanded to a variety of pop, world, rock and classical music. Although without any formal training in theory, Kiana began composing piano solos at age 11, after swimming with wild dolphins in a Hawaiian ocean cove, then expanded her writing at 16, when she began creating lyrics for melodies she strummed on her mother's guitar.
After a decade of performing with various bands and around the world as a solo artist, opening for International acts such as the Gipsy Kings and headlining her own tours, Kiana's discography ranges from multiple new age releases, a compilation of folk and world music she made with her mother, and 2 EP releases of her pop-singer-songwriter music.
That being said, Kiana's 8th release in actuality is her debut full-length vocal pop album, which represents the culmination of her journeys from the mountains of Japan to the shores of Hawaii, to the boulevards of Los Angeles, to the streets of Rome, and somehow back home again.