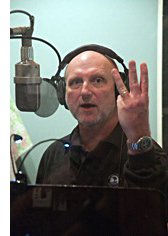 "Frankly, I was amazed and humbled at the response to my first CD, "What It Was They Became," in 2006. I had hoped friends and family would give it a listen and they did. I had also hoped to get a few reviews and in that I was wonderfully surprised. I am particularly grateful to the many reviewers, radio programmers and individuals here and in Europe who responded to the album.
With "What It Is They Became" exceeding my modest expectations, it was only natural that I began to think of another project. My friend and producer, Jack Sundrud, and I had co-written many songs over the years. A couple were cut by artists. In the case of "Iola," by Jack's own band, Great Plains. I had the honor of seeing "Homeland" as the title track for the final Great Plains album, and then the excitement of hearing it covered by the legendary Kenny Rogers.
Jack and I began talking about another project in the summer of 2008. This one would be a collection of songs mostly co-written. Jack was able to call upon nearly everyone from the first CD to help us make a second one. The sessions guys included Russ Pahl, Dennis Crouch, Tim Crouch, Brent Truitt, Rick Lonow, Jim Hoke, Sue Braswell and Alan Webb. We were also joined by the legendary Billy Sanford, Bill Huber, Steve Herman, Kirby Shelstad, Tony Harrell, Angela Primm and Gale Mayes.
My intent has been to put together a project that works as a continuation on the themes and influences I explored in the first album - A mashup of country, folk, Americana, swing and roots music.
I included two covers on this album - "Samson & Delilah," which I learned from an old Rev. Gary Davis LP. My version is substantially different than the straight-blues of Davis, but I believe we stayed true to the spirit of the song. The second cover is "Them Dance Hall Girls," written by Allan Fraser, which I heard on an early 1970s album by Fraser and DeBolt. Alan Webb, Dave Smith and I used to perform that song many years ago in coffeehouses and bars in East Tennessee and it has always been a favorite of mine.
The idea for "Iola" came from perusing a road atlas one summer when the Midwest was gripped in drought. Jack, Sue Braswell and I wrote that one over the course of a couple of pretty hot Nashville summer evenings. Jack and Russ Pahl were putting together a band called Great Plains, and we were fortunate when producer Brent Maher chose the song for the album.
Jack and I wrote "The South," several years ago, but added the "Look homeward all you angels" verse this past winter. We also teamed up to write "Maybe I Shoulda." Steve Blazek of Lincoln, Nebraska, and I wrote "I Like To Drive" while he and his wife, Regina, still lived in Nashville.
The rest of the songs are mine, so it actually did not turn out to be the CD I originally envisioned.
"7 Cent Cigar Blues," is an old piece of whimsy that Jack, Sue and I used to perform when we went around Nashville as The Crows. I hope you agree that the addition of the horn section (brought to life with an arrangement by Jim Hoke) brings a really carnival feel to the song.
"Memories Of You," comes out of my East Tennessee days, as does "Road I'm On" and "Sweet Waters." Looking around for something with a little bit of western swing, I dusted off "Who's That Girl" and added a verse.
I hope you enjoy listening to these half as much as I enjoyed putting them together."