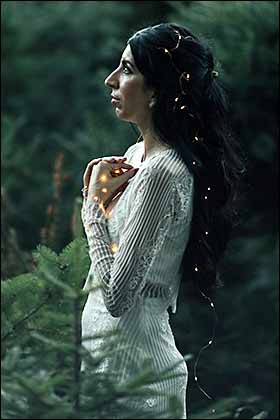 Katie Garibaldi is a San Francisco, CA, based singer, songwriter and guitar player who has been releasing music independently for about half of her life, thus far. Her multi award winning music video "Delightful", standout song from her 2016 release "Rooted Clarity", is currently screening at film festivals around the world. She was recently featured on notable magazine Acoustic Guitar with a video performance sharing her songcraft.
Elmore Magazine describes Garibaldi's sound as, "sweet, smooth music that is equal parts old school, pop princess and folk songstress".
The songwriter has a characteristic musical style wherein her country tinged dreamy folk gives her a distinct sound, ethereal americana with sparkling memorable melodies. Though, this prolific artist continues to stretch the boundaries of any genre's walls with her new full length album this holiday, "Home Sweet Christmas", a collection of original Christmas songs that embrace Garibaldi's operatic vocal prowess and soulful folky affection, but also songs that branch out into traditional country and even gospel atmosphere.