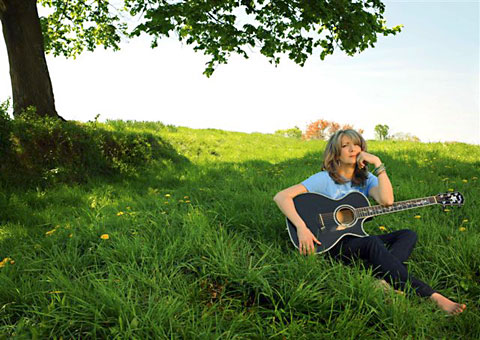 Most artists take fewer and fewer risks as they get older, but Kathy Mattea is a striking exception. She didn't play it safe while she charted mainstream country hits — 16 of them reaching the top ten — and she's not about to start now.
4 years ago, Mattea, one of the most sure-footed country-pop song interpreters of her generation, caught everyone off guard with an album of old-timey Appalachian mining songs called 'Coal'. She's delved even deeper into her Appalachian heritage with 'Calling Me Home', available from Sugar Hill on September 11th, 2012, co-produced with modern acoustic mastermind Gary Paczosa and featuring liner notes from bestselling author, and Kentucky-born kindred spirit, Barbara Kingsolver.
Mattea's new direction couldn't have taken her further from her old way of doing things. Where once she was pitched songs by Music Row writers, now she collects the generations-old and new but old-in-soul tunes that move her at folk gatherings, and rounds out her repertoire through extensive research. Two songs here came from a CD that Alice Gerrard, of the influential 70's folk duo Hazel & Alice, personally pressed into her hand at one such festival.
Once Mattea found her songs, there was still the matter of wrapping her voice around them. A mountain modal folk ballad may sound like the simplest thing on earth, but that doesn't mean it's easy to sing. Says Kathy, "My big fear when I made 'Coal' was I didn't grow up singing this stuff from when I was young. I've had a commercial music career for decades now. Am I gonna sound like a lounge singer trying to sing Appalachian songs?"
Thankfully, that fear didn't stop her from taking the leap, and both 'Coal' and 'Calling Me Home' offer decisive proof that she's no dilettante. She's always had a profound respect for traditional folk music — her ancestors played it, and in college she even took clawhammer banjo lessons and formed a bluegrass band — but she only recently came to accept that the music is in her blood. "I had to sing 'Black Lung' with Hazel Dickens in the fourth row", she says, referring to the classic song and the revered Appalachian woman who wrote and sang it, about the tragic death of her brother. "Now that will grow you up. Either you own your performance of the song, or you don't".
There's another song from Dickens's pen on Mattea's new album, and three from Jean Ritchie, another legendary singer and songwriter of mountain music. Ritchie, now nearing 90, got onto her about altering a few notes in the melody of Ritchie's "Now Is The Cool Of The Day" when they performed the a cappella, earth-loving gospel song together live. Mattea chuckles at the audacity it takes to tweak a song inherited from a major figure in the tradition. But one listen confirms that bringing her own interpretive gifts and rich, rounded vocal tone to selections that have received austere, high-and-lonesome readings over the years is a considerable contribution, and one that feels perfectly right.
"I don't think I could've sung a lot of these songs when I was 20", says the singer who was twice named the Country Music Association's Female Vocalist Of The Year. "I just don't think I had the gravitas in my voice to pull it off, to tell you the truth".
Even during her radio-ruling days in the late 80's and early 90's, Kathy was proud of representing the people and place she hailed from on the global stage, but it was only after she'd been away from Cross Lanes, West Virginia, for some three decades that she felt called to fully immerse herself in musical appreciation of her roots.
That she sings from the perspective of an Appalachian whose career took her elsewhere is part of what makes 'Calling Me Home' feel as contemporary as it does traditional. The top-notch cast of players doesn't hurt either. The contributions of the multi-talented Stuart Duncan and Bryan Sutton, along with bassist Byron House, percussionist Jim Brock, harmonizing siblings and fellow native West Virginians Tim and Mollie O'Brien and Mattea's longtime guitarist Bill Cooley, make for a crisp, vivid new-timey string band palette.
The clear-eyed way Kathy gives voice to her longing for her rural home stands out at a time when many a mainstream country song peddles the fantasy of a backwoods locale as a nonstop tailgating party. She, on the other hand, not only celebrates what she loves about the place where she grew up, but wrestles with the necessary evils her people have endured in the name of survival — both of her grandfathers mined coal, her mother worked for the union and her brother ships it to power plants — and grieves over both the destruction coal mining has wrought on the land and the passing of the generations who served as the communities' glues. That's called telling it like it really and truly is.
Of one of the songs she chose to record, Mattea notes, "'Black Waters' was written in 1970 or 1971, and it is so valid right now. I mean, people are living that story right now. I love that it clearly articulates that experience, and also that, inadvertently, it articulates how little has changed".
Kathy traveled quite the journey to reach the point where she was ready to advocate for the environment in her music. Twenty years ago, she was courageous enough to take a lonely stand for HIV/AIDS awareness on the stage of the CMA Awards, then organize an album whose proceeds benefited research of the disease. But she didn't necessarily sing about that sort of thing back then. "I mean, I didn't set out to be an activist", she explains. "It's just that there have been moments where I couldn't not speak, because of something I valued".
The music of the Occupy Wall Street movement has shown that beat-you-over-the-head protest songs don't resonate as well with people today, and Mattea's song selection is perfectly in step with the moment. She gravitates toward grounded storytelling, singing from the points-of-view of a maple tree, a miner's wife, a homesteader on family land, an Appalachian expat… Even of coal itself. Just as importantly, from start to finish her chosen material affirms a shared sense of humanity. She reflects, "I just feel like these songs speak for all Appalachians. I wanted to sing for something — not against something".
There just isn't a template for a career like Kathy Mattea's. Her mainstream accomplishments have already earned her a place in the West Virginia Music Hall of Fame, and, never one to tread water creatively, she's made her gracefully daring leap into the roots-honoring trad folk world. "To be a complete novice at something after you've been singing for three or four decades, to feel that humility of 'I don't even know if I'm going to be able to pull this off again', it's a great gift", she shares. "A lot of times people go through their whole lives and never get to that place".
And it's a very good place for Mattea to be. "I feel like I just made the album of my life; I articulated something I was put here to say. It's my childhood and life experience of a sense of place and culture and history and family, and of all the music that I've learned and all I've learned performing all rolled into one thing".