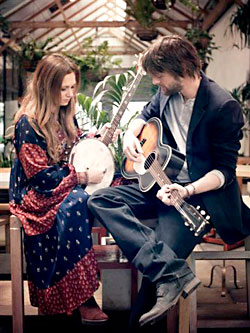 Kasey Chambers and Shane Nicholson's intriguing new album 'Wreck & Ruin' reunites two of Australia's most notable singer-songwriters, who also happen to be married.
Chambers believes that their second album of duets, due out October 22nd, 2012, on Sugar Hill Records, will shine a light on their unique partnership as spouses as well as musicians.
"I hope people will get a sense of who we are as a couple", says Chambers, who is a multi-platinum artist in Australia. "I guess I mean that a little bit to do with who we are as a couple in our day-to-day life, but there's a certain sound that we create when it's only the two of us. We could not create that on any other solo album, or with any other artist. It's something that we've realized is really quite special. There are a lot of songs on this album that I don't think we could sing if we weren't married".
Chambers and Nicholson met a decade ago when she sang on one of his records. They married at the end of 2005 and released their first duets album, 'Rattlin' Bones', in 2008. It proved so popular in their home country that they toured behind the project for three years and picked up numerous awards for the album.
For 'Wreck & Ruin', the couple (who are parents to three young children) wrote the bulk of the new material in a remote writing cabin about an hour and a half from their home. The project was recorded in Foggy Mountain Studios, owned by Kasey's brother Nash Chambers - located in a valley in the Australian bush, far from mobile phone access.
"We put together a whole new band for this album and got together with them a few days before we started recording", Nicholson says. "We hung out around the studio just jamming songs and getting comfortable with each other, but we didn't prep the album songs too much. It was more about creating a sense of ease between everybody before we got to work".
Chambers adds, "When we were recording it and Shane was talking to the band, he said, 'It's very traditional but not conventional'. And I thought, 'Yeah, that hits the nail on the head for me'. This album is a lot more traditional than any other album that Shane and I have made, together or apart. And it's got a lot more of the old-timey type of sounds on it. But there's something that's not conventional – obviously it doesn't sound like an album from back then, but it draws from it".