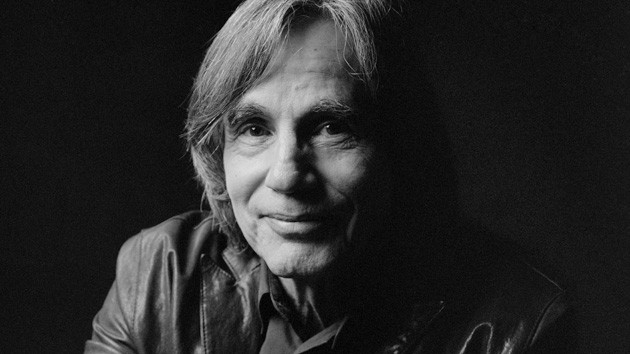 Singer-songwriter Jackson Browne has announced plans to embark on a world tour that will extend into the spring of 2009. The itinerary kicks off with a date at the Warner Theatre in Washington, DC on September 15, a week prior to the September 23 release of 'Time The Conqueror', Browne's first studio album in six years. The initial U.S. leg of the World Tour crosses the country through early November, and will be followed by tours of Japan, Australia and Europe. Tickets went on sale to the public on August 8.
Accompanying Browne on the road is his band of fifteen years: Kevin McCormick (bass), Mark Goldenberg (guitars), Mauricio Lewak (drums) and Jeff Young (keyboards, backing vocals). They have been with Browne since 1993's 'I'm Alive', playing on 'Looking East' ('96) and 'Naked Ride Home' ('02) as well. For 'Time The Conqueror', they're joined by new members Chavonne Morris and Alethea Mills, vocalists Browne met in 2001 when they were still attending Washington Preparatory High School in South Los Angeles and singing with Fred Martin & The Levite Camp. They are prominently featured on The Levite Camp's debut CD, 2006's 'Some Bridges', an album Browne co-produced, performs on, and which features six of his songs.
This lineup brings its incredible chemistry and collaborative energy to Browne's forthcoming album, 'Time The Conqueror', set for release September 23 on Inside Recordings, the artist's own independent label (with distribution through ADA Global). Produced by Browne and Paul Dieter, it's the 13th studio album of his career, and his first set of new material in six years, following up 'Naked Ride Home'. The new album's ten diverse original songs display the artist's ability to address personal, inner-directed reflection and matters of social and political import with equal passion and intelligence – and eloquent lyrics – throughout.
Most recently, Browne released two live albums recorded at dates on solo acoustic tours in the U.S., the U.K. and Australia. The GRAMMY®-nominated 'Jackson Browne – Solo Acoustic, Vol. 1' ('05) and 'Vol. 2' ('08), both out on Inside, feature Browne alternately on piano and guitar, performing a diverse selection of career spanning songs. In his four-star review of this year's Vol. 2 for Rolling Stone, Anthony DeCurtis wrote, "This is Browne at his best, engaging his audience, his own experiences and the world around him, all in songs that will not lose their resonance any time soon."
For the upcoming U.S. leg of the World Tour tour, a limited number of premium tickets benefiting The Guacamole Fund will be available directly through www.guacfund.org; proceeds support non-profit organizations working in the public interest, in the spirit of Browne's longstanding activism on behalf of peace, social justice, the environment and a nonnuclear future. Browne is also encouraging concertgoers to come with non-perishable food items for collection by food banks. With this call to engagement, Browne once again enlists his fans' participation in World Hunger Year's Artists Against Hunger & Poverty program.
Ever since his acclaimed 1972 self-titled debut album, Jackson Browne has defined a genre of songwriting and performing that is charged with honesty, emotion and personal politics. He's been recognized with inductions into the Rock and Roll Hall of Fame (2004) and the Songwriter's Hall of Fame (2007), with recent humanitarian honors including the John Steinbeck Award and the Chapin-World Hunger Year Harry Chapin Humanitarian Award.