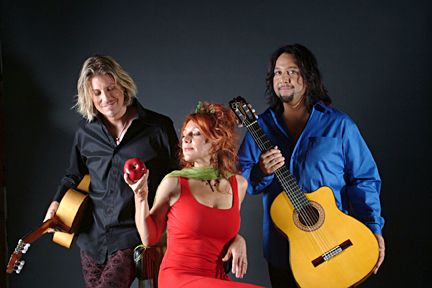 How does a music band make ends meet these days?
The last 10 years have seen the total decimation of the "old" industry system. Record companies, along with the promotional and technical firms that support them, have downsized dramatically or disappeared altogether. Self-motivated musicians have taken their future into their hands and moved forward with bold steps.
Such is the case with the latin guitar world fusion group Incendio. This Los Angeles-based group started in 1999, and came of age during the last gasp of the old record industry paradigm. Faced with the prospect of being an instrumental music-driven band in an age of increasingly bleak pop-driven market (where one-shot youngsters are heralded as geniuses, then sadly discarded in six months), Incendio has persevered and even thrived, taking instrumental Spanish guitar music to new and uncharted artistic levels.
The group has had seven international CD releases. The most recent, the guitar trio CD "Vihuela", came out on their own Incendio Music label in late 2009. They additionally have a live DVD, "Dia Y Noche", which has received critical acclaim for its sonic quality and uncompromising focus on "just the music". It was the Who's legendary Pete Townsend who said in 2003, "bands in the future must be able to play well live – that's the only music market that there will be". Incendio has taken that to heart, embracing the do-it-yourself ethos of indie rock and punk by self-booking and touring over 170 dates a year across the United States.
But it is the music they present at these shows upon which they have built their reputation. Sweeping, romantic playing is usually the heart and soul of live Spanish guitar performance. But the diverse backgrounds of the musicians in Incendio mean that, in addition to that romantic and passionate playing of their instruments, their concerts balance rock-style enthusiasm and energy with a tremendous technical and improvisational sophistication. Thus, Incendio achieves the difficult task of appealing to both a general audience who enjoy the melodies, as well as that more difficult audience: other musicians, who have come to respect the group's vision and work ethic as much as their fretwork wizardry and occasionally complex arrangements.
The group's CD's also feature a unique compositional and performance slant. Echoes of their predecessors like Strunz and Farah, Jesse Cook, and the acoustic side of Al Di Meola are obvious. But the group has explored jazz, Celtic, middle-eastern and electronica throughout their career, putting their own stamp on their self-produced music. They subtly bring influences as diverse as Weather Report, Jimi Hendrix, XTC, Paco de Lucia, Buddha Bar and Joni Mitchell to bear on their musical tapestry. Thus, their music is a true "fusion" and sounds like little else in the genre. And thus, as they have moved through new age, through electronica, through every subheading, the band's sound and enthusiasm has continued to evolve – no two Incendio CD's sound exactly the same.
Since their music defies easy characterization, the behemoth of terrestrial radio in big markets like LA has not embraced them – but they seem to have worked well without it, thank you very much. It is the smaller radio markets, college radio, satellite, internet, where the burgeoning support for the band has grown exponentially over the last five years. And press reaction around the country has been similar – "who are these guys, they're great, why haven't I heard of them". The band takes it in stride – it's a long haul game, and this determined band seems to be comfortable with taking cities and states by storm, one location at a time.
Incendio's richly textured music is rooted in myriad sources: Carbé's flamenco and classical guitar training as well as her Sicilian ancestry, Durand's Peruvian heritage, Stubblefield's European travels and musical collaborations with Kuwaiti oud maestro Waleed Hamad, not to mention Durand's penchant for rock-style dramatics and Stubblefield's lightning-fingered jazz-fusion mastery. Carbé's deceptively graceful bass and guitar playing grounds Durand and Stubblefield's dazzling twin-guitar attack, resulting in adrenalizing sonic explorations that take on greater dimension when they call longtime friends like percussionist Bryan Brock and drummer Nicole Falzone.
The evidence of the strength of live show can be seen and heard in the "Dia Y Noche" CD and DVD release. Available as of December 2005 on their own Incendio Music label, it literally shows day and night aspects of Incendio in action. While the nighttime footage was filmed in an elegant concert hall, the daytime scenes capture the electric intensity of an Incendio performance as they play at the eclectic Strawberry Music Festival in Yosemite, California. The footage of Durand and Stubblefield's tightly interlocked guitar solos — almost like spiraling shredding contests — with Carbé propelling the floor-pounding rhythms, all three rocking from the gut, leaves no doubt that this is a band that is, first and foremost, about performance. Crowd scenes reflect the thrilled surprise of audiences experiencing Incendio for the first time. It's that immediate visceral response from listeners upon which Incendio has painstakingly built a reputation over the past six years.
"We're definitely a niche market," Stubblefield allows. "But it's a niche market that, when a lot of people hear it, they say, 'I like that.' We'll play a street festival and sell 200 CDs in a couple of hours. The radio won't touch it but people who walk by and hear us think it's great. That's been crucial to our success, and we've just slowly built on it."
Word of mouth has been crucial and delightfully kind to Incendio. Carbé recalls how a concert booker was turned on to the band by her guitar-fixated teenager: "This 14-year-old boy watches us on Vista LA and he's into Hendrix, he's into Coltrane, and he said to his mom, 'You need to hire these guys.' So she looked us up because of her son." Incendio was subsequently booked for a high-profile university concert series.
"We always have had great word of mouth," Durand adds with gratified pride. "It's just approaching that tipping point. If we play for a thousand people, we won't get 800 people coming up and giving us a perfunctory pat on the back, saying, 'You guys are really good.' We'll get 50 people coming up saying, 'We will follow you into hell."