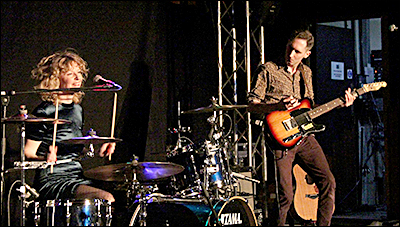 Husky Tones' punk blues style favours the common rawness, simplicity and emotion shared between the punk and blues genres. Live it is delivered by the unique set up of a female drummer and singer Victoria Bourne and guitarist Chris Harper. Their approach to punk blues mirrors what they love as audience members, inventive, individual and fully aware of tradition, without being a slave to it.
African and punk drumming patterns as a basis, fuzz boxes, guitar through guitar and bass amp this is how the Husky Tones create their full sound. Since the release of their critically acclaimed debut album 'Time For A Change' in 2015 they have been making new friends and fans performing around the UK and songs from the album have been played on national and international radio. They have built a reputation for intense live shows performing at places such as London's 100 Club and Blues Kitchen, Brighton's Latest Bar, The Fleece in Bristol and national UK festivals.
Rock, blues, punk and folk. These are the core elements of Husky Tones' 'Who Will I Turn To Now?'. The album takes you on a journey with songs that scream and cry, lush vocals drifting on a sea of heavy guitar riffs, 'Who Will I Turn To Now?' combines songs of protest, despair and love, tales of the benefits system, climate of cuts and the disintegration of capitalism. As well as reference to modern day politics, it has historical roots with a ballad, 'Island Of Barbed Wire'. The song is about Victoria's great uncle who was interned on the Isle of Man as a German prisoner of war just for being a German living in the UK when war broke out. He was married to an English woman, and the song tells their story, an expression of powerlessness in the face of terrifyingly sad global events, which is as relevant today as it was during World War 1. Husky Tones are ready to protest and have an attitude that music is a force for change.