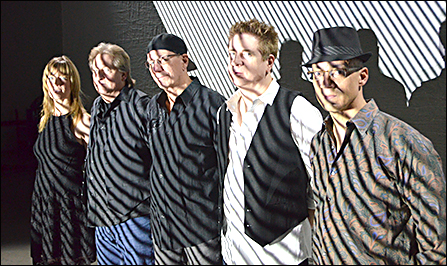 "Paving an americana lane all their own", this 5 piece modern americana folk rock act, Humphrey-McKeown, engages listeners in with organic melodies, originality of sound and soulful lyrics. Writing together since 2006, Humphrey-McKeown delves deep into universal human experiences and captivates live audiences with their high energy music, atmospheric gypsy taste, melodic colors and first class storytelling.
They have created a buzz for themselves with their personal concerts to unsuspecting fans during tours, are on rotation on 120 independent radio stations across the US and Canada, and have released 5 albums in 6 years, self produced by Tom McKeown and Heather Humphrey. 'Tuned Loud' states, "It's not too much to say that Humphrey-McKeown is one of the most promising figures in contemporary folk rock music". Given much acclaim across varied press, their 5th album, "Tapestry Of Shadows", is available on Spotify, iTunes and wherever digital music is sold.
The band's songwriters and lead vocalists, Heather Humphrey and Tom McKeown, met in their current home towns of Schaumburg, IL, in 2006, when they joined forces to write for publishers in Los Angeles, Chicago and Nashville. By blending New York native, Heather's innate sense of melody, and Chicago based Tom's pursuit of something new and unexpected, the partnership wrote for any occasion and in any style always seeking to better themselves and their craft. After peddling their songs for the success of others, they realized they wanted to find success for themselves and write for their own musical voice.
In 2011 they formed the Humphrey-McKeown Band, subsequently released 4 studio albums from 2012 to 2015, and honed their unique take on americana folk rock. By bringing Tom and Heather's dual lead vocals to an americana style with unexpected progressive sense, broad sweeping melodies, a big beat, and a touch of Brill Building sensibilities, the Humphrey-McKeown sound was born.
On their 5th album, "Tapestry Of Shadows," bassist Tony Meadors, violinist Gary Jacklin, and drummer Jim Livas, join Tom and Heather on the recordings. Unlike previous albums, this is truly a band album where everyone has a key role in the creation and execution of the music. "Tapestry Of Shadows" is a milestone for Humphrey-McKeown and is sure to garner even more national and international recognition for them as songwriters. The entire band is actively touring across the US and Canada.