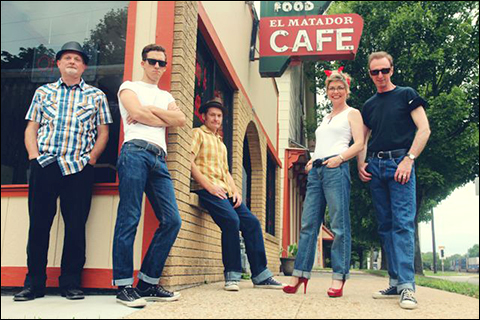 The House Jumpers were born of Midwest USA grit from Kansas and Illinois. Created just down the road from the home of Big Joe Turner (Kansas City, Missouri), Jesse Stone ("Shake Rattle and Roll" from Atchison, Kansas), and a short trip from Chuck Berry's home in St. Louis, the House Jumpers reach into that fertile territory to find a unique place for their sound. They offer authentic post WWII jump blues with West Coast influences. The band creates a powerful and fresh connection to BB King's Chitlin Circuit music while re-gendering the music for Cathy Hunt's refreshing vocal work. Other artists, including Ruth Brown, have obviously influenced Cathy's work.
Husband Marvin Hunt anchors the music with a big guitar and the Hunt team writes the original material ('Chicken Ain't Nothing But A Bird', 'Sure Footed Baby', 'Esplanade', 'Bump Jump' and others) on their first album "Sure Footed Baby", on House Rent Records. The House Jumpers capture the humor and the irony of the 40's and 50's in their lyrics, while proving that their musicianship should be taken seriously. They call their music "jumpabilly" because most songs jump ('Chicken') while others reveal the slapback rockabilly feel ('Sure Footed').
The House Jumpers also include Jason Jones (upright bass), Chris Millspaugh (harp), Paul Matthews (drummer). The honest connection between this multigenerational band and the roots blues music they deliver is undeniable and consistent, regardless of the amazing age span of these musicians.
The House Jumpers have performed primarily in clubs and concerts in the Midwestern USA, but radio stations in the USA and Europe have praised their first album release. A second album is scheduled for release in Spring 2014 on House Rent Records, a division of EsDeca Media.