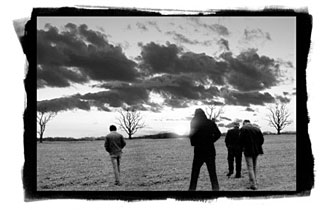 The second release from Horsehead builds upon the sound of its predecessor "Record Of The Year" without abandoning the hooks and harmonies that made that album successful. Containing the streamlined fusion of Tom Petty & the Stones, "Welcome To Horsehead" is filled with great songwriting, something that's as difficult to achieve as a distinctive sound. It is with this second release that the band as a whole has been able to truly blossom into a modern yet timeless level of originality.
Many of the songs have a deep melancholy undercurrent but all the songs contain a cohesive element of hope, leading the listener on a journey through the record as a whole, not a just a collection of singles. The opening track "Heartbeaking Songs" masks a painful relationship and subtly sets the table for the story to unfold; "Walk It Off" is a powerful piano driven rocker that could fit on any Springsteen record from the late 70's, "Lost Love Line" is a scornful, blistering number that will have you hitting repeat to play it over again and again. "I Need A Good Day" is presented as an optimistic silver lining that most heavy-hearted stories neglect to contain.
It is the passion and purpose behind "Welcome To Horshead" that makes for an invigorating listen that you will keep coming back for more.