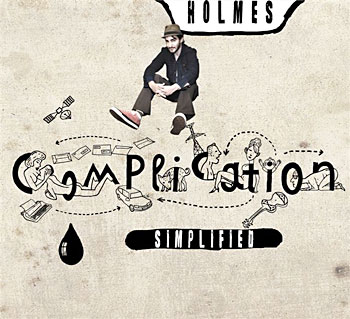 Holmes can often be found buried under a mountain of vintage recording gear in his cozy Silverlake, CA, home studio, cooking up tracks for himself, other artists, television and film. Roy Shakked, under his moniker Holmes, distills an array of influences, both musical and simply from life, with his 4th release, "Complication Simplified".
Holmes' only permanent member is Roy Shakked, but the list of musicians that have played with him is astounding. Some of LA's finest musicians have formed a revolving door of players who have participated in the recording process and live performances. Lyle Workman (Beck, Sting), Chris Bruce (Meshell Ndegeocello, Sheryl Crow), Michael Jerome Moore (Blind Boys of Alabama, Better Than Ezra), Joel Shearer (Damien Rice, Alanis Morissette) and Brett Simons (Brian Wilson).
Shakked was born in Israel and moved to Boston when he was eleven. Much of the music he found influential came from the records he listened to as a teenager, though jazz and classical music had a place, too. When his family moved back to Israel, Shakked was enlisted to a mandatory service in the military for three years. These late teen years, when many of us are forming unbreakable bonds with music, found Shakked unable to play piano with limited time and access to hearing music. "I think it ignited in me a desire to make music when I got out", he says. "Also, a desire for escapism. I was on a plane back to Boston immediately after getting out of service".
After graduating from Berklee College of Music, Shakked worked as composer for obscure video games in NYC. A year later he found himself in Los Angeles producing albums for the Delta Music and Yamaha labels. Later he started his own – Groove Gravy Records. A series of aliases followed: Jazzelicious (remixing Sarah Vaughan, Jimmy McGriff, McCoy Tyner, Carmen McRae and producing cuts for Shihan and Ursula Rucker), The Tao of Groove, Zigo and RioListic. In the process, his eclectic style caught the ears of music supervisors who have featured his tracks on television shows "C.S.I. Miami", "Sex & The City", "Nip/Tuck", "Without A Trace" and "Suburgatory", as well as numerous films.
By 2007 Roy decided to return his old influences. Holmes, an old band name, was reborn. He has since released 3 other albums under this moniker: "Stop Go" in 2007, "Holmes" in 2009 and "Covers", featuring renditions of songs by artists as varied as Ice Cube, Elvis, Massive Attack and Inxs in 2011.
"Complication Simplified" shows a great variety in tone and instrumentation, while still focusing on Shakked's great arrangements and songwriting. The jaunty, syncopated "Mosquitoes", brings the frustration of the one-sided conversation alive with banjo, whistling and snappy lyrics. "Pressing My Luck", is a modern take on the 80's driving song, with a catchy chorus, and arpeggiated guitar that invite the listener to see how far good luck can go. Showing equal aptitude for moodier songs, Shakked duets with Jesca Hoop on "Revolving Door". Melancholy strings, horns and a sweeping cinematic sound surround their well-matched voices on this track. Gliding effortlessly from simple hooky fun tracks to darkly sophisticated ones, the album incorporates classic influences like Bowie, The Cars, Prince, Pink Floyd, and Howlin' Wolf. Coupled with modern eclectic sounds ranging from Sea Wolf to Fountains Of Wayne, Shakked puts his own musical spin on the album.
Despite the musical diversity, the album is, at its heart, about simplicity. "It's about a return to simplification of musical ideas for me, and the simplification of life's problems", Shakked claims. "It's about getting to the point and clearing out what's unnecessary".