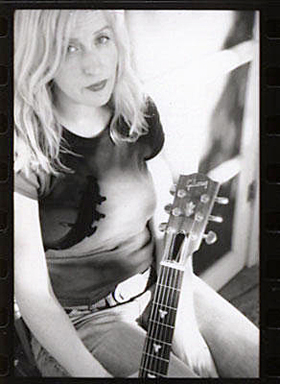 In a way, we have David Bowie to thank for Hilary York's delightful sophomore album 'In the Dark', soon to be released on Hey Miau Records.
York came from a musical family; her parents had owned a record store before she joined them. She's always been talented, singing for her family, taking piano lessons, writing poems from a very young age. As a young girl, she lived in America, Germany, Bolivia, and Australia, so there wasn't much opportunity to see live music, just the occasional artist on live television and many music videos. But when Bowie appeared on local television, performing an oldie, his first hit "Space Oddity," the young girl was hooked. She knew then and there that she wanted to write and sing, and her ambition to be the next Richard Pryor got tabled.
York spent time in Europe and practiced her songwriting, graduated college, and eventually settled in Austin, Texas, where her musical career took root. After years of songwriting, her debut album 'The Moon' was released in 2006, and garnered her a lot of local attention, along with showcases at SXSW and regular weekly club residencies.
With the release of 'In The Dark', Hilary York's songwriting and singing have reached new heights. The record was produced by York with her musical foil Kullen Fuchs, a classically trained multi-instrumentalist. Featured on the record are an all-star group of local musicians. Among them are: Scrappy Jud Newcomb, one of the best guitarists in a town full of guitar players; Ian Moore, a former Austinite, and an outstanding guitarist and singer; Gene Kurtz, bassist with Dale Watson's first-rate country band; Joey Shuffield, drummer of Austin hitmakers Fastball; and Julie Lowery, York's long-time singing partner.
But it's her songwriting and singing which have taken a significant leap. Listen to the warm confessional sound of album opener "Jaded," which turns into a horn-driven rocker. "I Look For You" is an instant grabber, a catchy heartfelt country shuffle. "Carnival" is a jazzy blues, perfectly suited for a smokey late-night club. "Cover Me Up" is a seductive, radio-ready hook-filled hit to be. York also includes her first-ever recorded cover, Randy Newman's "Baltimore," which she first heard and fell in love with on a 1987 Nina Simone album (a big influence, not to mention which York's father has lived in the city for a long time, so there's personal relevance too). Intimate, confessional, warm, sexy and sassy, that's Hilary York's 'In The Dark'. We hope it's going to be a new favorite of yours, too, like it has for us.