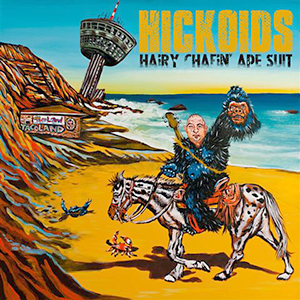 In the original run of The Hickoids from 1984 to 1991, the band that Trouser Press aptly nailed as displaying a "winningly sociopathic outlook" probably should have been institutionalized. And came damn close to being locked away on any number of occasions.
Today, more than two decades after shattering and then returning to active duty nearly 15 years later, The Hickoids are now an institution, cult legends in fact; Cheeky Dadaist punk-country pioneers who command respect for not just what they forged in the past, but even being alive now and able to make music at all, much less now their best work yet.
And the band's latest as well as long-threatened and patiently-awaited 3rd studio album of largely original material, "Hairy Chafin' Ape Suit", underscores what the Austin Chronicle observes of The Hickoids, Version 2; "They sound as big and badass as ever". Still punks even as they qualify to join AARP, the band remains a formidable force of frequently unexpected and regularly mind-bending musical adventurousness. And in between the slams, crunch and howls plus underneath the quips, japes and punchlines, the perceptive listener will also detect some serious business going on, as monkey business as it all sometimes may seem.
The 10 song set begins with the psychedelic rock'n'roll squall of "Fruit Fly", followed a full-out balls-to-the-wall blast, "TJ", that's something of an echo from the past, its first snippet written at the tail end of Hickoids v.1 by singer and primary songwriter Smith and his hermano de musico Pepe Lopez of Dallas's Loco Gringos "on a three stringed guitar while romancing two young ladies one night". Showing up in the set list now and again since then, in final fruition it's a bracing slice of the killer rock'n'roll that underlies most everything The Hickoids have done.
Yeah, there's the country the band has always sent up and mutated as well as bowed to in honor on the loping and crackling shuffle "You Kneed Me" (inspired by drunken fistfights on the road), the Waylon on crank march into dead run of "If Drinking Don't Kill Me, Kill Me", and the Hicky-tonk of "Side By Side Doublewides" (a romantic survival guide written and sung by tentpole Hickoids guitarist Davy Jones). But one also gets seduced by the punky yet authentic proletarian blues of "Working Man's Friend" and wailing ode of "Talking Hot Pants Blues" – both tributes to late 80's band bassist Dick Hays that shine a strobe light on Jones's six-string ferocity.
The Hickoids don't just nab and adapt styles but also mate roots sounds to serve the combo's perverse purposes. They mash-up cheesy Tejano pop and picturesque old-school Texan steel guitar on "Cool Arrow" (which not so coincidentally rhymes with the Chicano slang for asshole), and "Mo' Hair" has the greasy Southern soul groove and feel of a boozy summit of Mick'n'Keef and the brothers Allman down in Muscle Shoals. And the cover songs on this outing that the band makes their own are from pals and peers; Opener "Fruit Fly" from the notorious Loco Gringos, and the garage punk punchfest of "Stop It (You're Killing Me)" borrowed from the group's San Anto scene mates The Happy Dogs that takes the libido down to that city's lost but legendary rebel rock temple Tacoland.
And if we may be so bold as to say so – because what the hell, The Hickoids have always been fearless – "Hairy Chafin' Ape Suit", for all the stylistic twists, turns and trips the band injects into their music, is in the end simply one badass mofo of a real rock'n'roll album. So don't blame us if you find yourself binging on it if not addicted to its potent if perverse charms.