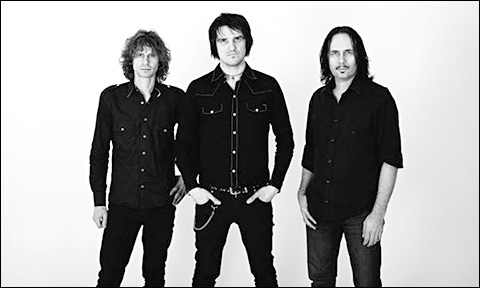 Helldorado was formed in the spring of 2001 in Stavanger, Norway. Most of the members had been playing in the local band The Tramps for several years, and had considerable live and studio experience with that band. They where looking for a much darker and broader musical landscape than they could find in The Tramps, and got together playing punked up surf covers with their new band Helldorado. After a while the band and their sound started to develop. They started adding their own songs to the set, and after a couple of gigs the rumours about the band was flying around town.
In the fall of 2002 they entered the Stavanger traditional Z.O.O.M. week at legendary local rock club Checkpoint Charlie (a full week of local bands playing and battling for a spot at the Z.O.O.M. national finals in Oslo). Helldorado won the Stavanger leg, went to the final in Oslo and won there as well. The band was awarded a full Norwegian tour + a couple of gigs in the U.K. and Germany (Popkomm in Cologne).
In November 2002, shortly after winning the national Z.O.O.M. finale they released their first mini album 'Lost Highway' at the local label CCAP.
The album received stunning reviews in the Norwegian music press. After they finished the extensive Z.O.O.M. tour, they spent considerable time in the studio in the summer of 2003. They developed a more aggressive, heavier and minor based edge. The fall was spent touring and perfecting their skills and their live sound, and in February 2004 Helldorado finally released their long awaited debut album 'Directors Cut' in Scandinavia.
This is an aptly named album by this excellent Norwegian outfit - their echoey, gothic take on rock'n'roll drips atmosphere and attitude, and would be perfect soundtracking some Quentin Tarantino flick. 'Blood Shack's' clattering tale of lust and vampirism sets the mood, and the other 11 tracks are filled with epic quantities of murder, deceit, guts, gore, hellfire and brimstone, all of it leavened with a dark, twisted sense of humour. There's also more than a hint of Nick Cave in Dag S Vagle's songs and voice, and in a fair and just world, Helldorado would find similar amounts of fawning press coverage and sales.
After 'Directors Cut's' release in Europe by Glitterhouse in October 2004, both critics and music lovers all over the continent are discovering the band.
'The Ballad Of Nora Lee' is the 3rd release from the Norwegian quartet. The album shows a band that is still deeply fascinated and inspired by American music and subculture, combining elements from different genres but still managing to sound unmistakably like Helldorado. These guys are no copycats, they mean it! They pick from the best and make it their own. Mighty ballads, stompin´rockers, desert-rock anthems, Mexican trumpets, spooky strings and rocking attitude, Helldorado's got it all.
'The Ballad Of Nora Lee' also saw the band having a surprise hit in Turkey with the album track "The Drinking Song". The track was playlisted by Radio Eksen and quickly attracted a lot of attention. Helldorado has done four sold out tours of Turkey, been covered extensively in Turkish media and gained a new level of popularity when an adapted version of 'Drinking Song' became the official song of the Turkish National Football Team.
Helldorado is a fantastic live band and their gigs are legendary. Combine their abilities as a live band with their natural coolness and a bunch of rocking tunes that other bands would kill for, and you have a success in the making. So get into your 65 Chevy, a few bottles of whiskey, grab some good looking, mini-skirts wearing girls and drive through the night, waiting for what will happen. The perfect soundtrack is already there!
New album "Bones In The Closet" to be released soon!