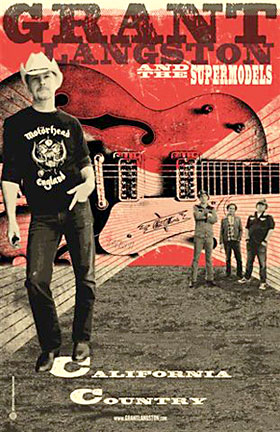 Grant Langston makes West Coast Country Music - a tradition that started up in the wildcat honky tonks of Bakersfield with Buck Owens and Merle Haggard, made its way to Hollywood with The Byrds, and crashed out in the bleak desert east of L.A. with Gram Parsons. Langston's take is traditional in structure, steel guitars and Telecasters spinning sad stories of lost love, hard work and harder drinking. It's roadhouse in attitude and appearance - irreverent, loud, and unapologetic. But even as he plays the onstage role of good-time entertainer you can't miss the real craft in the music, the stories that make it all work.
Born and raised in North Alabama, Langston took a turn in Nashville decades ago learning that the machine that makes modern country music wasn't his cup of tea. With a love of traditional country music he made his way to California and started recruiting rock musicians and teaching them the classic country catalog.
His latest record, "Working Until I Die", has been the basis for a summer of insider enthusiasm. Two songs have been tapped for HBO's hit series 'True Blood', and a third was chosen by director Mike Figgis for his new film, 'Suspension Of Disbelief'. Tour dates opening for Dale Watson, Wayne "The Train" Hancock, Band Of Heathens, Ben Harper and other country/Americana notables have helped his reputation spread.