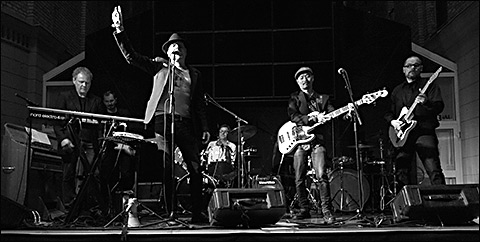 From the soil in the dark forests of Sweden, to the warmth of the American South, Gibrish is now releasing their 2nd album "Gangster Tango". An album filled with energetic and alternative music with focus on the stories.
Gibrish from Sundsvall, Sweden, has been described as a rusty rockband with elements of blues, folk and vaudeville. A place where the musical borders been torn down. Like a meeting between Tom Waits, Ry Cooder and Allan Edwall on a dark path deep in the woods.
The band's 2nd full-length album "Gangster Tango", includes the beautiful and evocative "Dahlia Möter Fågel Liten", the Brecht-inspired "Det Jag Packar Ner" and the high-octane live favorite "Håll Dig Borta Från Vin".
Gibrish has been described as an innovative, exciting and refreshing band on the Swedish music scene and Gibrish also attracted international attention. The band toured 2014 in both the US and the UK and articles, interviews and reviews have been published in both Swedish and foreign press.