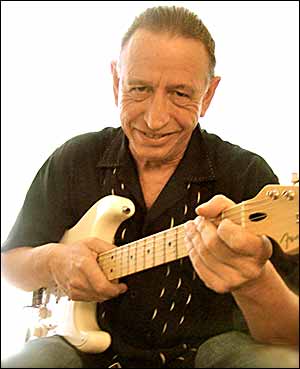 George Lilly has been playing professionally since 1961. Playing with local rock'n'roll bands near his childhood home on Cape Cod, then from Pennsylvania to Indiana, Ohio and Kentucky during his college years then on to New York and the New England area.
During the 70's and 80's he ran Northern Studios, a successful recording studio in the Boston area, where artists ranging from jazz greats, like Jaki Byard, to pop Icons, The Cars, recorded. He also engineered live broadcasts for 50 000 watt radio station WBCN from the great jazz and blues venue Paul's Mall in Boston where he got to work with the likes of Muddy Waters, Sun Ra, Tom Scott, Taj Mahal and other greats.
At the same time George continued to perform around the New England area and appeared on shows with Chuck Berry, James Cotton, The Band, Johnny Winter, Irma Thomas, Paul Butterfield, Lonnie Mack, Zachary Richard and many, many others.
In 1991 George moved his family to the New Orleans area to study guitar with Wayne Bennet, of blues and jazz renown, and played around the greater New Orleans area with local blues and r'n'b bands. In 1995 George wrote and produced an album for the independent label Wildcat Records from which Aaron Spelling Productions used his original song, "Always You", in their film adaptation of Stephen King's novel "Thinner".
After losing their home in Hurricane Katrina, George and family moved to the Jupiter Florida area where he formed his 6 piece r'n'b band George Lilly & The Half Fast Allstarz with whom he recently completed his latest album "Thinkin' About You Baby" and he has resumed his jazz studies and is a regular performer at the Jupiter Jazz Society Jam Session on Sundays at the Double Roads Tavern & Grill.
Known for his energetic stage presence and his New Orleans blues feel, George is still very much on the scene!