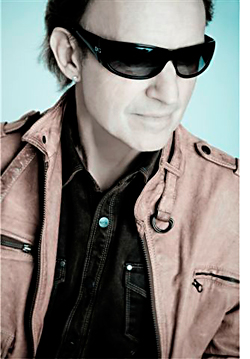 Visionary songwriter, performer and all-around musical pioneer Gary Wright has spent more than forty years shattering conventional ideas about how to make chart topping rock music. Not only have his classic songs "Dream Weaver", "Love is Alive" and "Really Wanna Know You" proven their genius by achieving hit status in four different decades; Wright's musical wizardry has also extended, more than once, to changing the very sound and texture of contemporary pop.
As far back as the late 70's Wright was challenging audiences with pioneering instrumentation and cutting edge keyboard technology. His innovative techniques and professionalism have afforded him the opportunity to be a longtime collaborator and creative influence to fellow artists ranging from his contemporaries George Harrison, Steve Winwood, Mick Jones (of Foreigner) and Joe Cocker to 90's "rap" artists Third Base, Tone Loc and Busta Rhymes, as well as Eminem, Salt N Pepa, Joan Osborne, Anastacia and Mya.
It all began in 1967, after earning a degree in psychology and then touring Germany as a singer/songwriter, that Wright met Island Records founder Chris Blackwell and moved to London, where he formed the rock group Spooky Tooth. That year, Island released the group's first record 'It's All About', which immediately won critical acclaim and launched the group on a successful career path that included sold out U.S. tours with rock legends Jimi Hendrix and The Rolling Stones, and culminated in the band's classic second album 'Spooky Two'.
After two critically praised solo albums on A&M Records, 'Extraction' (1971) and 'Footprint' (1972), and three more with a revived Spooky Tooth including Mick Jones (later of Foreigner), Gary signed a deal with Warner Bros. Records in 1974. His ground breaking 1975 release 'The Dream Weaver' stretched the pop music envelope by featuring the first ever all keyboard/synthesizer band, and by pioneering technologies in cut down versions of synthesizers and drum machines that revolutionized the musical instrument business and changed the sound of pop, rock and R&B forever.
In 1976, the song "Dream Weaver" hit #1 in the charts, and its follow up release "Love is Alive" climbed to #2. In all, "The Dream Weaver" resulted in sales of over two million albums and two million singles. In a business where even the biggest success is often written in the wind, the popular appeal of Wright's songwriting genius has endured.
The 1970's were extremely prolific for Wright as he also produced records for Traffic and Rolling Stones producer Jimmy Miller's production company. He quickly became a part of London's elite session musicians, playing keyboards on George Harrison's 1970 classic 'All Things Must Pass', which also featured Eric Clapton, Ringo Starr, Dave Mason and other greats. Thus began a continuing musical relationship with Harrison that embraced playing keyboards as well as co writing several songs on George's subsequent albums.
Together with Harrison, Wright visited India in 1974 as a guest of Ravi Shankar. That visit developed into a long term relationship with Shankar as well as some of India's other leading classical artists, which ultimately blossomed in his award winning 1988 album 'Who I Am' (Cypress Records) that used an all star cast of musicians including a South Indian percussion section and performances by classical Indian masters Lakshmi Shankar and L. Subramanian.
In 1991, Warner Bros. Records asked Wright to remake "Dream Weaver" for the Wayne's World movie soundtrack. which went on to become Billboard's #1 soundtrack album; selling over two million copies. "Dream Weaver'' was also featured in the Golden Globe winning picture The People vs. Larry Flynt.
In addition to movie placements, Gary's creative output also extended to film scoring, with music for the Alan Rudolph thriller Endangered Species, the Sylvester Stallone directed Stayin' Alive, the Oscar winning German film Fire and Ice, and the 2000 IMAX release Ski to the Max, both directed by Willie Bogner.
In 1995, Gary issued a world music album titled 'First Signs of Life', which incorporated music and percussion from Brazil and Nigeria and featured guest performances by George Harrison and drummer Terry Bozzio. The music collaborations continued with his solo effort 'Human Love', a studio album that featured guest artists Jeff Lynne, L. Shankar and Steve Farris.
The year 2001 brought two new cover versions of "Love is Alive," one by singer Anastacia, whose International sales topped 3.5 million; the other by Joan Osborne whose version became the first single for the Michael Douglas/Matt Dylan film One Night at McCool's. Other music placements followed, as "Dream Weaver" and "Love is Alive" were featured in the films Daddy Day Care and Coyote Ugly respectively.
Elsewhere, a new generation of artists were discovering Wright as Eminem recorded one of Gary's songs and retitled it "Spend Some Time" for his 2004 'Encore' album while DJ Armand Van Helden sampled "Comin' Apart" from Gary Wright's 'The Right Place' album and renamed it "My My My". This funky dance remix became a huge hit in Europe and Asia in 2004 & 2005; selling over ten million copies.
The year 2007 marked the 40th Anniversary of Spooky Tooth and ushered in the release of a 'Nomad Poets' live DVD. featuring Gary and original members Mike Harrison and Mike Kellie. The band followed it up with sold out European tours in 2008 & 2009. During this stretch, Spooky Tooth was invited by Chris Blackwell to celebrate the 50th Anniversary of Island Records by performing at a concert in London in May 2009 along with such artists as U2, Grace Jones, Amy Winehouse, Keane, Sly & Robbie and Yusuf Islam (Cat Stevens).
In 2008, Gary became the newest touring member of Ringo Starr's All Starr Band before releasing an instrumental album of ambient music called 'Waiting To Catch the Light' and an EP called 'The Light of a Million Suns' that featured a duet with his son Dorian on a re-record of his hit song "Love Is Alive".
As Gary Wright begins another new decade as a musical pioneer, this one is immediately highlighted by the 2010 release of 'Connected', his first pop rock album in over twenty years and a brilliant culmination of Wright's vast life experiences, songwriting ability and production know how. 'Connected' also continues a lifelong tradition of embracing esteemed musical camaraderie as the album's first single "Satisfied" features performances by Ringo Starr on drums, with Joe Walsh and Jeff 'Skunk' Baxter on guitar.
In addition to shows throughout the year with his own band to support his new material, Gary will, once again, traverse the U.S. during the summer; touring as a member of Ringo Starr's All Starr Band. In the fall of 2010, Gary will appear in Martin Scorcese's highly anticipated "George Harrison biopic" while "Dream Weaver" will be prominently featured in Disney's Toy Story 3 movie and the TV show Glee.