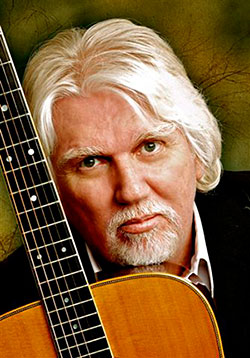 If life imitates art then the last year must have been a blue period for the world's only honky-tonk-singer from a tropical island. Gary Hunn's acclaimed debut "Dust & Gin" made waves globally with fans of traditional country music in 2011. However his new release, "Breaking Blue" is a letter from a much darker and deeper place.
"I've always loved classic country songwriters like George Jones and those who followed in his footsteps like Gram Parsons and Justin Townes Earle", Hunn explains. "They had a confessional quality to their work - like they were telling stories against themselves. This time I wanted to follow their example, dig a bit deeper and really dish the dirt on what I'd been going through. "I wasn't just immersing myself in the genre to write songs - I was actively attempting to live and write as a part of the genre itself".
Of course true aficionados of old time Nashville luminaries would recognize the timeless appeal of Hunn's gut wrenching lyricism jousting with its instrumental equivalent - a haunting pedal steel guitar. That interplay between his aching vocals and Phil Baker's yearning steel forms the backbone of the new album.
"This time I recorded from the start without a rhythm guitar track purposely to avoid that slickness I hear on just about every contemporary country record", Hunn explains. "I'm much more interested in pursuing the melody and the lyric rather than the beat so that's why the pedal steel ended up being the center point for everything - it's much more emotive and taps into the lyrics much more directly - to my ear at least".
Together the voice and pedal steel plumb the emotive depths of isolation, loss and depression - both emotional and financial - before ultimately emerging into a place of acceptance.
The backing tracks were all recorded in Townsville (the nearest city to Hunn's home on Magnetic Island) with producer Bjarne Ohlin, then the vocals were re-tracked later in Sydney with Josh Schuberth to allow Hunn to sing full performances over the painstakingly crafted instrumentals.
Musically the album moves through everything from pure country roots ("Heads You Win", "Can't Get Past The Hurting"), honky tonk ("Heartaches, Hangovers & Cheating Songs") and western swing ("Hard Times A Coming") but with a conciseness that's also born out of time.
"After 'Dust & Gin' I went back and listened to all the great old classics that I liked and I realized that the shorter songs they favored back then held my attention so much better than the 3.30 or 4 minutes which is more typical these days. When it came to making this album I deliberately trimmed everything back to keep the songs really concise".
As the title implies, "Breaking Blue" is an album built on paradoxes. A bleak worldview prevails through much of the early parts of the disc even though the songs were written in the sun drenched paradise of Queensland's Magnetic Island. Equally surprisingly, the album's old school country stylings are more in the vein of lost country legends like Billy Sherrill and Merle Haggard despite the musicians all living 10,000 miles and half a century away from the land of juke joints and honky tonks.
So it's an album that says more by saying less. It's an album born out of darkness but recorded in a place of blazing sunlight. It's music that's unmistakably inspired by America's south but it was recorded in Australia's north. Consequently it's a disc that sounds unlike anything being made these days, not just in Australia, but anywhere.
However, the greatest paradox of the album is that despite all the bleak moments, the abiding feeling at the end of the disc is actually a sense of love and acceptance. It's almost as if airing so many demons has allowed them to be tamed.
The hauntingly beautiful duet with Peta Cherae, "Out Of My Life", traverses these moods within one song as the singers embrace the idea of separation in a way that would have surprised even the legendary George and Tammy. Similarly Hunn's upbeat paeans to Gram Parsons ("Anywhere In Georgia"), and his other true love ("My Heart, My Soul, My Own") all bring a sense of resolution and even celebration to the end of the album.
Ultimately the listener feels like they've come through a long night of turbulent waves to reach a safe harbor at dawn, "Breaking Blue".