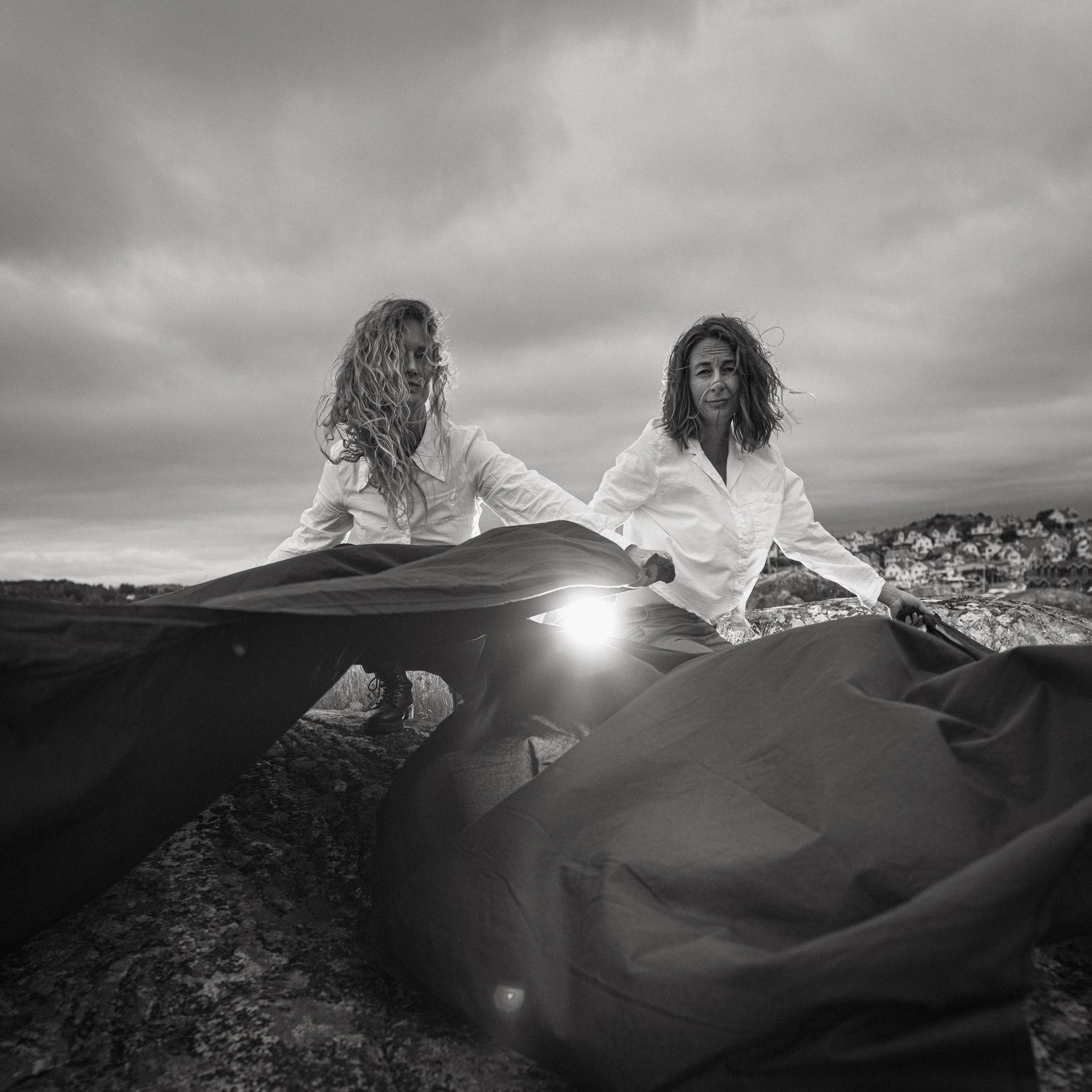 ENGLISH :
Light slants through the window. What does it illuminate? Something pretty? Broken? Ugly? Or does it fill in the cracks? On April 21st, 2023, the duo GRÅ drops their debut album "Snett Ljus" (Slanted Light) with poetic insights into the ordinary, alongside gossamer acoustic tunes, a treat for anyone who takes the time to really listen.
Back in late winter of 2021, the duo GRÅ (GRAY), came together. The 1st seed was sown when Johanna Björneke Wirgård played a few tunes she had tucked away for Petra Haraldson and that blossomed into this duo. Several more songs evolved until there was enough material for a full length album. In 2022, they began recording "Snett Ljus" at a snug countryside studio, Studio Glasfågel, helmed by Gustav Davidsson. Bassist and producer Daniel Wejdin helped capture GRÅ's tonal language and gracefully refined the sound.
GRÅ takes the 'in-between' perspective, observing the borderland of our comfort zones, and when longing refuses to relax its hold on us. GRÅ is about hindsight and keeping calm, but also about the passing of time, the gray hairs that are here to stay. Gray at its most soothing, but also at its most dismal. "Snett Ljus", which happens to be GRÅ's debut album, gives us epic love stories, but also recounts the ordinary: things that simply happened that might not have gone well. When your efforts aren't enough. About moving on and holding on.
Johanna Björneke Wirgård studied at the Academy Of Music & Drama at the University of Gothenburg. After graduating, she has mainly worked as a music teacher, and composing music took the backseat to other aspects of life. "Snett Ljus" is her 1st full length album.
Petra Haraldson has toured with several different constellations, and she has released singles and 2 albums featuring her own material. In January 2023, a fellow musician, Camilla Åström, and Petra released the album "Unarmed", with their settings of poems by Karin Boye in English.
SVENSKA :
Snett ljus genom fönstret. Vad faller ljuset på? Kanske är det på någonting vackert, kanske är det på någonting fult och trasigt, eller så kilar sig strålarna in i sprickorna mellan det vackra och fula. Den 21:a april, 2023. släpper duon GRÅ debutalbumet "Snett Ljus" med poetisk vardag som skir akustisk visa, för den som stannar upp och lyssnar.
På en ö i Göteborgs södra skärgård bildades duon GRÅ, vårvintern 2021. Fröet såddes när Johanna Björneke Wirgård spelade sina undanstoppade sånger för Petra Haraldson och idén om ett samarbete tog form. Flera nya sånger tillkom och undan för undan växte material till en fullängdsskiva fram. Ett år senare påbörjades inspelningen av albumet "Snett Ljus" hos Gustav Davidsson på Studio Glasfågeln, i en skogsglänta utanför Lilla Edet. In i arbetet med albumet har de haft med sig musikern och medproducenten Daniel Wejdin, som fångat upp GRÅ's tonspråk och vävt in sin ton och känsla i soundet på "Snett Ljus".
GRÅ vill vara där i mellanläget och poetiskt beskriva och sjunga om när livet skaver och om när längtan vägrar att ge vika. GRÅ är lugnet och eftertanken, men också åren som gått, det grå i håret som är där för att stanna, det vilsamma gråa och den grå ledan. På "Snett Ljus", som är GRÅ's debut-album, finns berättelser om den stora kärleken, men också om den lilla, om när det bara blev och kanske inte ens speciellt bra, om när man inte räcker till, om att röra sig framåt, om att våga sitta still i båten.
Johanna Björneke Wirgård är utbildad på musikhögskolan i Göteborg och har sedan dess varit verksam som musiklärare. Det egna skrivandet har alltid funnits där, men stått tillbaka för annat i livet. "Snett Ljus" är hennes första fullängds-album.
Petra Haraldson har turnérat med och spelat i olika konstellationer genom åren och släppt singlar och 2 album med egenskrivna sånger. I januari 2023 släppte Petra tillsammans med musikern Camilla Åström albumet "Unarmed" med deras tonsättningar av utvalda dikter av Karin Boye i engelska nyöversättningar.