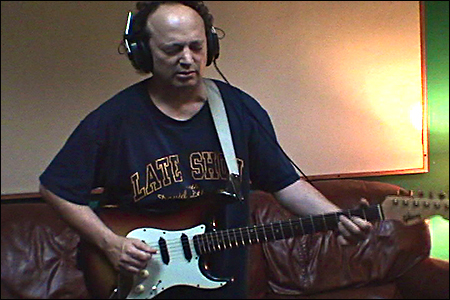 This album is the first collection from Fuzzbee Morse, who's had life-altering musical encounters and truly wild adventures with many of the greatest, most groundbreaking musicians and writers of our time from a tender age. Between the ages of 13 and 17, major inspirations, including such one-of-a-kinds as Frank Zappa, Jean-Luc Ponty and Joe Zawinul, took Fuzzbee under their wing, goosing him, challenging him and imparting their own unique, pungent and priceless understanding of the power of real music.
Along with those inimitable mentors, in various contexts Fuzzbee has played with and absorbed from Lou Reed, Jaco Pastorius, Richie Havens, Bono, Peter Gabriel, Aaron Neville, Ric Ocasek, The Chambers Brothers, The Soul Survivors, Derek Trucks, Dave Grohl, Third World, Karla Bonoff, Daniel Lanois and many, many more.
Having been the man behind the scenes on countless projects as a producer, writer, multi-instrumentalist, film scorer, live sideman, arranger, music director and comedic foil, when it was finally time for Fuzzbee to step forward with his own songs, he went for the greatest band he could conceive of. He says, "happily, they're all real friends and total mensches".
Fuzzbee's notes on the players:
"JERRY MAROTTA: Whose studio was home for this album, whose mischievous cackle provokes uncharted realms of silliness and whose groove is second to none, hosted and anchored the sessions. He played drums, taos drums, ocarina, garden weasel, percussion and omnichord. His credits include Peter Gabriel, Paul McCartney, Robbie Robertson, Hall & Oates, Elvis Costello, Orleans and Todd Rundgren. He's an amazing drummer and my paisan for life.
TONY LEVIN: One of the wittiest and most fascinating people I know, played a variety of basses on the album. He has exactly the right proportion of unencumbered creativity and focused, rock solid, fat mama bass tone. His instincts are impeccable. So is his moustache. His credits are beyond belief, I mean, he played with Igor Stravinsky! That's like playing baseball with Babe Ruth! And John Lennon and Pink Floyd, Peter Gabriel (for 37 years!), King Crimson, James Taylor, Ringo Starr, Paul Simon, Dire Straits, Laura Nyro… and it all goes on and on 'til you're dizzy.
DAVID SANCIOUS: Who's currently holding down the keyboard chair in both Peter Gabriel's and Sting's touring bands, was a pal from a tour we'd previously done together and is a deeply inspiring, funky and surprising player, whose intelligence and feel shine through everything he does. His credits include the original E Street Band with that Bruce fella, Eric Clapton, Jeff Beck, Santana, Seal, Aretha Franklin, Peter Gabriel and Sting. He plays Hammond organ, piano, synths and virtual soprano sax on here. David's another of my favorite people.
I was also very lucky to have Daya Rawat, Lisa Frazier, Willie and Joe Chambers of the Chambers Brothers and Tyra Juliette sing with me on this album. They're all phenomenal singers and brought endless soul, experience, fun, wisdom & feel to these songs. More than that, they're some of the most compelling and unforgettable kats 'n' kittys I've ever had the pleasure of commingling with!
I knew getting these songs and these people together in the same room would be a good idea. I'm so glad that it happened. A lifetime of everything under the sun went into this. We had a blast making it, I hope you do listening to it!"