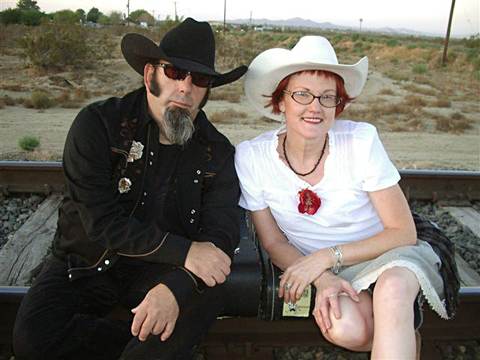 There's a twin dust devil blowing in out of the west and it's name is Fur Dixon & Steve Werner. They just seemed to come off the road, out of nowhere with their big cowboy hats and guitars, yodeling and harmonizing their highway songs into the hearts of the American West. Their songs are filled with stories of the western road, told unadorned in plain language.
Yep, the "Traveling American Folksingers" from Van Nuys, California are on the move. Their two CDs,"The Pearl & The Swine" and "Travelers" are a one-two knockout punch of real-deal Americana. They effortlessly blur the boundaries of bluegrass, western and American folk music.
They have wowed 'em all over the west, headlining at such places as the Getty Center, Tucson Folk Festival, Peter Strauss Ranch Summer Concert Series, Friends Of Bodie Days, Bluegrass At The Braemar, Ojai Concert Series, Underwood Farms Bluegrass Folk & Old Time Festival and the Topanga Banjo & Fiddle Contest & Folk Festival. They are beloved by young and old alike, by fidgety kids, Hollywood hipsters, old folkies and silver-haired septuagenarians.