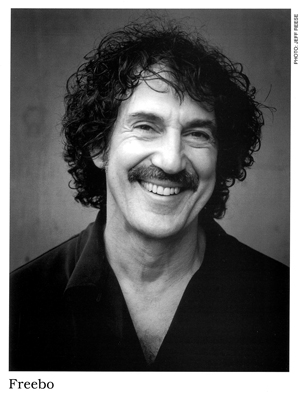 One of contemporary music's most renowned and versatile bassists via his longtime associations with Bonnie Raitt, John Mayall, Crosby Stills & Nash, Neil Young, Buddy Guy and Ringo Starr, Freebo has evolved over the years into a popular singer-songwriter on the folk-rock circuit.
While keeping up a brisk pace of composing and performing at clubs and festivals throughout the US, the versatile classic rock and blues influenced musician has received an unprecedented amount of accolades in the handful of years since the release of his critically acclaimed recording "Before The Separation". In 2007, he was named "Best Folk Artist" at the Los Angeles Music Awards and won the South Florida Songwriting Contest; the following year, he won a Posi Award for Best Song in the "Most Uniting" category; and in 2009, he was a finalist in The Great American Songwriting Contest.
On his highly anticipated new album, Freebo invites his fans to join him on a heartfelt search for "Something To Believe". Digging into his dual passions for bluesy rock and stripped down acoustic guitar driven folk-pop, the singer — working with co-producer and engineer Robert Tepper - frees his musical soul as he looks for meaning in various ways throughout the eclectic and compelling 11 tracks.
In Freebo's cleverly poetic world, there is always whimsy to spare — which allows for a few lighthearted moments like the wry and charming blues rocker "She Loves My Dog More Than Me". But it's those other, deeper places in the artist's heart that reflect this moment in his spiritual journey and an ongoing quest for personal significance and universal truth.
"No matter what I'm writing, I always come from a place of honesty and truth, emotion and commonality", says Freebo. "Creativity is an expression of my personal spirituality, sharing who I am and how I relate to the rest of the world — and that includes not only people but animals and nature. It's more than simply a belief in a God or superior being. It's about a connectedness to all things. "Something To Believe" is about a quest for meaning but I didn't start out with that concept — it's simply the theme that took shape as I began to write more songs reflecting on my life and the world around me".
Freebo wrote the poignant title track with his longtime friend Eric Lowen (of the singer-songwriter duo Lowen & Navarro) who is battling ALS. The song explores some of the spiritual issues that have arisen since he was diagnosed — including the desire to find deeper meaning in those dark places and the dream of someday knowing freedom from the burden. The song has a tacit acknowledgement that the ultimate purpose of this journey is out there but in this life we may not fully be able to grasp it.
On "Before The Separation", Freebo — who grew up in a Pennsylvania coal mining town — tackled the hard issue of the loss of the American Dream. "Something To Believe" expands on that theme via "When There's No Place Like Home", tackling the issue of homelessness based on the experiences of those who have lost their jobs in a bad economy and veterans the government has turned its back on. The album also includes a song about Freebo's desire to know his life has counted for something ("Standing Ovation"); a clever weaving of a spiritual quest with modern technology ("My Personal GPS"); an unabashed optimistic love song ("On A Parallel Together") and his aspiration to conquer his fears and take risks ("If Not Now, When").
"That's What Love Is", the new album's most philosophical, poetic number, finds Freebo collaborating with songwriters Karen Taylor-Good and Lisa Aschmann; the gentle acoustic ballad weaves personal observation, timeless wisdom and even classic Biblical concepts in trying to define the attributes of life's greatest mystery. Typical of Freebo's free-spirited stylistic approach, he follows this point of grace with the rollicking, playful blues-rock jam "Sometimes It's For Nothin'".
"For me", he says, "the process of crafting a new recording is one of exploration. You might start out thinking the album is about one thing but are happy to allow it to evolve into something very different and unexpected if it's meant to go that way. The joy is in the discovery of new creative directions, and I always find myself growing as a writer, producer and vocalist during the making of an album. The great news is, the search for a higher significance continues and that means there are a lot more songs where these came from".