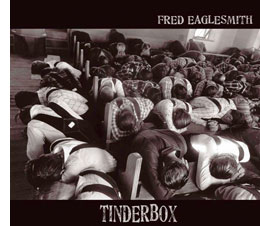 Fred Eaglesmith has done it again – An 18-track tour de force that makes the compelling case - as well as most enjoyable and fulfilling listening - that its a landmark album, not just for the artist himself but within the contemporary music at large.
Yes, his new album, "Tinderbox" is that good, an album that is sure to appear on year-end critics Top 10 lists.
On it, one detects the complimentary comparisons made about Eaglesmith by critics in the past - Woody Guthrie, Bruce Springsteen, Tom Waits, John Prine, T Bone Burnett and Steve Earle - yet it's an album that could only been made by Fred Eaglesmith.
With production by Eaglesmith and Scott Merritt that blends deep roots and vivid musicality with atmospheric arrangements and experimentalist touches that remind of Waits' more progressive work, it captivates listeners and leads them on a musical and lyrical journey that evokes powerful emotions and visions.
Self described as "Dirt Road Gospel" (in a non-religious way).