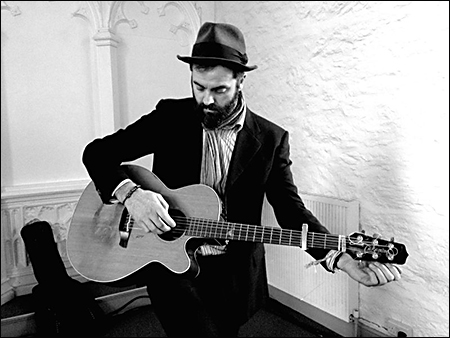 Fraser Anderson is a Scottish guitarist, singer and songwriter who learned his trade performing as a touring vocalist with national institution Dougie MacLean before taking to the road to promote his 2004 debut album 'and the girl with the strawberry….'. Trekking around both the UK and mainland Europe as support to acts as diverse as Joan Armatrading, The Low Anthem and Chuck Berry, he subsequently decided to base himself in the idyllic countryside of the Ariège in southwestern France and began to raise a family, performing sporadic concerts to feed and clothe his young children.
Writing new material at his own pace and completely out of the spotlight, Fraser's next release was the 2007 album 'Coming Up For Air', which he recorded in Paris. The BBC's Bob Harris described it as 'truly beautiful' and immediately invited Fraser to perform a session for his Radio 2 show. He later recorded a second session and has also performed a live set for the BBC alongside Natalie Merchant as part of Celtic Connections.
Recorded in the Languedoc region on the Mediterranean coastline, sold at Fraser's rare live shows, but otherwise unreleased until now, 'Little Glass Box' is a truly glorious retro folk-soul exploration. With world class musicians on board including double bassist Danny Thompson (John Martyn, Nick Drake), trumpeter Dick Pearce (Ronnie Scott Quintet), percussionist Martin Ditcham (Sade) and a tour de force Rhodes piano exhibition from Max Middleton (Jeff Beck, John Martyn), the result is a melodically sensitive and mature album crafted with a lyrical honesty, while its twelve songs engage with the rare quality exemplified by such genre defining albums as 'Astral Weeks' or 'Five Leaves Left'.
Despite being one of the industry's best kept secrets, songs from 'Little Glass Box' such as 'Rag & Bones' and 'Warhorse' have already been given airplay by the likes of Radio 2's Bob Harris and Zoe Ball, plus the leading acoustic based music show presenters on BBC Scotland, Ulster and Wales.
As a performer, Fraser throws himself into the spotlight in a way that is entirely his own, although his sensitive yet sensual voice and guitar playing style are sure to evoke comparisons with the likes of Nick Drake, Joni Mitchell and John Martyn. Having recently relocated back to the UK, audiences on this side of the channel will now have the chance to discover the many charms of this 'newcomer' for themselves.