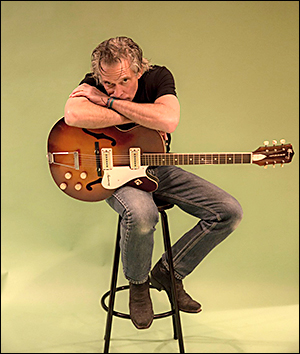 Frank Migliorelli has written and published a library of music for advertising agencies, children's publishers, and video game projects. He's been a finalist in top songwriting competitions and performs either solo, or with his band, The Dirt Nappers.
He's produced recordings for Rounder Records, including the award winning duo "Satan & Adam", "Point Blank" and a number of other international releases. He's written and produced music that has appeared on NBC's television show "Homicide", an "X-Files" video game, numerous video games and educational programs for Scholastic and Sunburst, and even wrote a soundtrack for a "Chippendales" video.
His creative work extends beyond songwriting, as he has had a successful career in interactive media as an award winning exhibit and game designer, and a college professor at New York University.
In addition to performing with The Dirt Nappers, Frank hosts a monthly songwriter showcase at The Green Growler in Croton on Hudson, NY. Starting it's 3rd season in the spring of 2017, the Singer Songwriter Series features artist from Brooklyn to Boston, and beyond performing original music, accompanied by a great selection of beer.
The influences are easy to spot in the mix of his original songs. Raised on 45's and AM radio, and an ongoing passion for great songwriting, the music has a pop sensibility that makes it easy to listen to, and easy to remember. Rooted deep in the best of american folk, rock'n'roll and soul, Frank and his band bring a great show to the stage wherever they play.