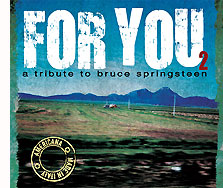 The Roma-based Italian label Route 61 is runned by journalist, music producer and tv show-writer Ermanno Labianca, who wrote a bunch of books on Bruce Springsteen (including the best seller "American Skin") and a few on American singer songwriters (including a Ben Harper biography and "Like A Rolling Stone").
For his Totem Records in the 90's, he produced albums by American soccer player Alexi Lalas and Italian songwriter Marco Conidi, as well as "For You – A Tribute To Bruce Springsteen".
Starting with "For You 2 – A Tribute To Bruce Springsteen" (which features Italian artists, as well as contibutions by the likes of JT Van Zandt, son of the late great Townes, and Chris Cacavas, former member of Dream Syndicate and Green On Red), Labianca recently founded Route 61 and right after he decided to follow that tribute album with "Find the Light", Francesco Lucarelli's debut, which features guest appearances by Graham Nash, Jeff Pevar, James Raymond and Kenny Passarelli. Lucarelli ends the Springsteen-tribute with a bluegrass rendition of "Tomorrow Never Knows".
Route 61 products are marketed as "Americana Made in Italy". That says it all.
"There is a scene, well represented in 'For You 2'" – says Labianca - "that in my opinion deserved to be showcasted, and the mostly folk-country-blues-r'n'r based tribute to Bruce Springsteen was a starting point. In the future, the label intend to produce other artist featured in 'For You', as well as American musicians that we admire."
Ermanno Labianca, Francesco Lucarelli and Joe Slomp (the only recording artist that appears on both "For You" and "For You 2") can be considered the heart and the motor of Route 61.