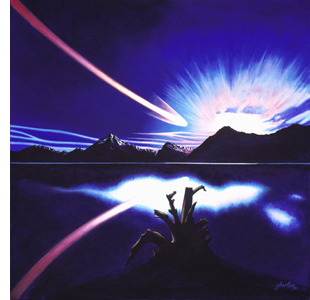 As dusk enveloped the spectacular vistas of Yose-mite Valley in Yosemite National Park, California, a huge pile of wood lay stacked at the edge of a high cliff. Nature lovers from far corners of the world gathered on the valley floor, waiting till dark when the woodpile was torched and slowly pushed off the cliff, the burning logs forming a blazing cascade down the mountain's stony face.
The image of the primitive light show, staged at Yose-mite for tourists, stuck in Florida-born Rick Roberts' mind for a long time. Then in l973, as he and his new Colorado based band were about to play their first gig but still needed a name, the image flashed back: Firefall. That seems an especially dead-on handle for the country flavored rock'n'roll band that carried the torch of musical forebears such as The Byrds, The Buffalo Springfield, and The Flying Burrito Brothers into the mid-'70s and beyond.
For the better part of the next decade, Firefall burned brightly it at both ends, musically and personally, and then appeared to flame out, at least on record. By 1982, they'd cut eight albums (scoring gold for the first three, with the third going on to platinum-plus), and put 11 singles on the charts.