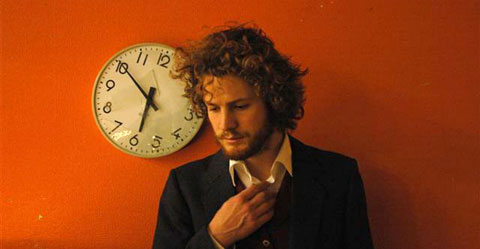 Born in 1980 and living in western Sweden.
Singer of songs, strummer of strings, teller of tales, feeler of feelings...
"Crane Grief" is actually the second full-length recording from twenty-six year old Swedish excentric pop poet Filip. A while back he distributed his homemade CDR's of Charles Bukowski-poems put to music, followed by the exciting instrumental single "Tobacco/Sad Autumn Roses".
These two releases got a lot of attention in the media, both in Sweden and in the UK. Among others, Everett True in Plan B happily exclaimed: "Filip is redolent of Daniel Johnston, Will Oldham and Tom Waits, without sounding like any of them. It's brilliant!" Later in the year, Filip, together with Einar Heckscher, made a short tour around Sweden in celebration of the late, great Charles Bukowski. "Crane-grief" is something completely different - It's the self-released debut album proper from Filip.
Recorded in the spring of 2006, during two charged days in a Stockholm located basement. Using old analogue equipment, engineers/producers Henrik af Ugglas and Tom Hakava has created a raw and intimate sound. With just guitar, piano, pump organ and autoharp, Filip performs his simple and beautiful songs all by himself, true to his heart. Hearing is believing...