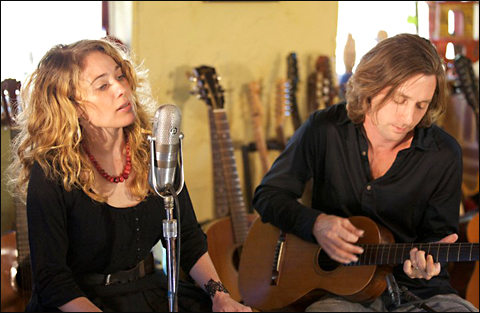 Long distance relationships are difficult to cultivate under the best of circumstances. So imagine the challenge faced by the members of Fiery Blue when they opted to collaborate without ever meeting face to face. Chemistry, synergy and all the other benefits of being in personal proximity might have fallen by the wayside, if instinct and intuition hadn't taken over.
Fiery Blue first formed when San Diego-based songwriter Paul Marsteller surfed the internet in search of a vocalist who would complement the new songs that he was starting to put together with producer and multi-instrumentalist, Gabe Rhodes, of Austin. That's when they chanced upon NYC-based singer-songwriter Simone Stevens. They were instantly enticed and emailed her to see if she was interested in a long distance collaboration. They have since gone on to do about 50 songs in the past year and a half, starting with their self-titled 2010 debut, "Fiery Blue".
"We have good chemistry, in spite of having done this without having ever really met", Marsteller suggests.
Gabe is the son, producer and primary band member of acclaimed Texas country-folk artist Kimmie Rhodes, and an accomplished musician and producer in his own right. His credits include sessions recorded alongside Willie Nelson, Emmylou Harris, Gillian Welch, Joe Ely, Ray Price, Waylon Jennings, Stephen Bruton, Jimmie Dale Gilmore, and a host of others.
Rhodes works with veteran drummer Hunt Sales (Todd Rudgren, David Bowie, Iggy Pop) on most of the Fiery Blue-tracks.
Fiery Blue has clearly taken a significant step forward on their sophomore set, titled "Our Secret". It has an artsy, country, retro, rootsy feel, with most of the songs about the longing for enduring romantic love. The record is more countryesque than their debut record. That was the design.
"Simone is a natural country singer, with all that charm and character in her voice", Marsteller says. "I don't think she even realizes just how good she is. And Gabe, well, it goes without saying, he's brilliant at this kind of thing. He not only produces, but he plays just about everything on the record".
With the exception of a sultry cover of the Beatles' "I've Just Seen A Face" (featuring harmony vocals from Kimmie Rhodes), all the songs are Marsteller's original compositions (including two he co-composed with Rhodes). The material sounds both timeless and familiar. Stevens' singing on "Crystal Ball", "Slow Down", "Wheels Up" and the title track brings to mind the elemental sensitivity of Emmylou Harris and the clear determination of Lucinda Williams. Rhodes' shimmering production makes songs such as "Tears Are Blue", "Little Red Shoes", "While The Music Plays" and "Eventide" appear both atmospheric and engaging simultaneously. The album overall demonstrates all the makings of a classic.
How do they account for being so in sync, despite the distances between them? "All I know is that it just works," Marsteller offers. "I write the songs, Simone knows how to sing them and Gabe puts them in the right musical setting. We each have a part to play in the creative process. Maybe doing this long distance even helps, because it allows us to concentrate on our respective parts, without all the logistics and overtones of being in the same room together".
Stevens sums the relationship up succinctly. "I know I'm the shortest one," she laughs. "And I also know Gabe and Paul are cool guys. And knowing that, what else really matters?"