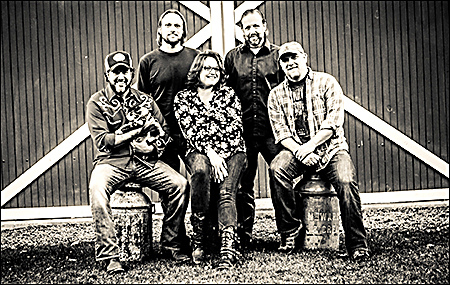 Esquela, the 5 piece Americana band from upstate New York, will soon release its 3rd album, "Canis Majoris". Produced by music industry legend Eric "Roscoe" Ambel, whose past projects include collaborations with The Bottle Rockets, Marshall Crenshaw and The Yayhoos, "Canis Majoris" continues Esquela's exploration of the themes and traditional music of rural America. The new album is filled with songs of love and loss, a stinging critique of our unique brand of American greed, and even a musical retelling of one of the most infamous games in baseball history.
Front man and bassist John "Chico" Finn describes how he and the other members of Esquela evolved as musicians and band mates during the album's songwriting sessions; "This album was more of a collaboration in the songwriting process", Finn says. "I brought ideas to the table, and the band provided input to shape the final arrangements. The band has grown a lot and these songs are more fully evolved".
Founded in 2010 by Finn and guitarist Keith Christopher, Esquela has built a reputation for spirited live performances at venues across the northeast. With the release of "Canis Majoris", Esquela's members hope to introduce their music to a whole new group of potential fans. In September 2015, Esquela took 1st place in The Playoffs at the Rock & Roll Hall Of Fame in Cleveland, a competition that featured over 200 bands from all over the world. While the validation the win provided is enjoyable, Finn won't let it go to his head;
"I play music for enjoyment, so it was an engaging experience to be in a band competition", Finn said. "It gave me insight into why I play music and how valuable it is to me that music can be free of the competition of the work world. It was extremely gratifying to win, but I am happy to leave the battling out of music".