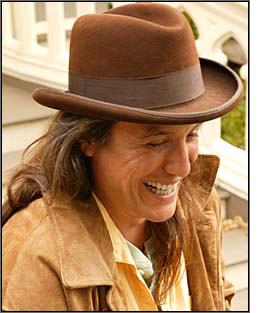 Singer-songwriter/producer Emory Joseph emerged in 2003 with his self-released debut, 'Labor & Spirits' (Capsaicin Music). The critically acclaimed, self-produced release, with its wide range of American roots styles, crisp production and quality musicianship, found its way to Bonnie Raitt; who not only became a friend and a fan, but ended up covering one of Joseph's songs on her album, 'Souls Alike'.
"When I'm asked what kind of music I play, I usually just say 'American,'" says Joseph. "What I mean is that I'm just as likely to write and play 'Jazz' and 'Blues' music, as I am 'Country' or 'Folk' music - and that I'm just as likely to record a beat I've learned that came from Ninth Ward of New Orleans as I am the South Side of Chicago or the hills of Appalachia." Joseph's new release, 'Fennario – Songs by Jerry Garcia and Robert Hunter' (release date August 19 on Iris Records) could be considered the second installment in the "Emory Joseph's American Music" series.
Recorded at NYC's Legacy Recording Studios, Joseph assembled musicians Larry Campbell (before Campbell joined the Dead's Phil Lesh), Jon Carroll, Duke Levine, Dennis McDermott, T-Bone Wolk, Soozie Tyrell and L.A.-based engineer Chris Brooke to produce 'Fennario'. Special guests would later include bassist Lincoln Schleiffer and long-time Garcia associate, mandolinist David Grisman. At a blistering pace, considering what they walked away with, the seven principal musicians recorded twelve songs in five days on every instrument under the western sky. They played in every beautiful and funky roots-and-roll style, going into great and subtle detail, while never obscuring the goal of illuminating the songs of Garcia and Hunter.
"I wanted to do something special, " says Joseph, "I think these two were as good a songwriting team as America has ever known, and have always wanted to share them with the non-Grateful Dead fans, who don't know what they're missing. The songs they wrote have beautiful melodies and words that fit in your life when you are 15, and yet still and again when you are 60. I don't know of another catalogue that is remotely as deep or as diverse as theirs. I'm sure that there isn't one."
'Fennario' stands as a classy tribute to the timelessness of Garcia and Hunter's work together, as well as damn-fine, good-ol' album of American music.