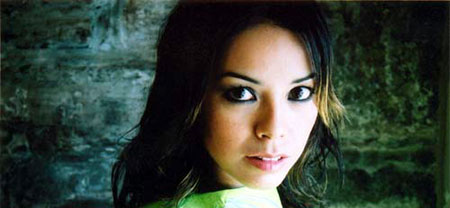 Emm Gryner makes records that matter.
Impressed more by the freedom to express herself than by straightjacket promises of major labels and slavery to modern radio, Emm has made records in her native Canada for the past eight years. With sales in the tens of thousands on her own Dead Daisy Records label, Emm has been able to guide her own career and follow her own inspiration. Emm sees no limitations — writing, playing most of the instruments, producing and releasing her own albums has given her a unique perspective.
Inspired by the work of a diverse range of artists who fuelled her passion (Peter Gabriel, The Pretenders, The Cure, Bright Eyes, PJ Harvey, Madonna, Beck, Prince, Guns 'N' Roses, Tori Amos, The Eurythmics) Emm has crafted her own distinctive sound and path.
"My influences are all over the map. I was raised on classical music, '80s pop and '90s grunge and metal. Later I discovered indie rock, britpop and singer-songwriters. When I find a great song I don't care where it has come from or what anyone else thinks of it."
As much as Emm enjoys the talents of other artists, happily the reverse is also true. Her unique voice, plaintive and expressive, capable of communicating heartbreak and soaring joy, has brought her to the attention of a number of artists she admires. Emm has been invited to sing on recordings with Lou Barlow, Rob Zombie, David Bowie and Curtis Mayfield, as well as to tour with Ron Sexsmith, Rufus Wainwright, Bernard Butler and The Cardigans. In addition, Nelly Furtado listed Emm's self-produced album, Science Fair, as one of her all-time favourite albums.
Intimately lo-fi yet never lacking in ambition, Emm's albums have topped college radio charts and brought her major commercial airplay. Engaging, exciting and emotional live performances have made Emm an artist who has to be seen to be believed. Sometimes solo, often with a band, Emm has toured constantly across Canada and widely in the US and has recently begun to win fans in Europe. Bit by bit, through good old fashioned word-of-mouth, Emm has built up a dedicated following of creative and inspired music lovers. Nominated for three Juno (Canadian Grammy) Awards, Emm makes being a workaholic look like fun and having fun look like the most intoxicating way to live.
Ever looking to broaden her horizons, Emm will sometimes take a song by another artist and pick it apart, lay it bare and then build it up again, this time infused with a little Emm magic.
In 2001, she released a critically-acclaimed album containing the most unlikely combination of songs. On Girl Versions, Fugazi rubbed shoulders with Def Leppard, and Nick Cave was found lurking next to Blur. Add an Ozzy song and a Clash tune and the result is an album only Emm could have made, simple and spectacular all at once.
Asianblue (2002) brought two Emm Gryner assaults on the Canadian charts and with her singles lodged on the airwaves, Emm decided to release a DVD. This followed a launch of a book of lyrics and other writing Emm penned in 2000 called The Secret Letters. Following the success of Asianblue Emm took to the road with her band for 2 sold-out tours across Canada.
"Touring with my band really inspired me to return to making sparse, intimate yet powerful recordings. I like to hear the rough edges and the spontaneity of a song, not just a computer-crafted track similar to what you hear all over mainstream radio these days."
When a three-week window opened up on the calendar, Emm decided to make a record.
Setting up in her living room in Montréal, Emm got to work with her usual intensity. An album of songs by Irish artists was placed on the drawing board — artists as diverse as Thin Lizzy, The Thrills, The Corrs and Gilbert O'Sullivan, amongst others. As the songs began to be assembled, the twin themes of love and death emerged. Folk legend Kate McGarrigle added some skilled banjo to a Virgin Prunes' song. Emm stripped The Corrs' shiny, happy "Breathless" down to piano and cello and rendered it an orchestral suicide note. Therapy's "Nowhere" was transformed into a downhome kitchen toe-tapper.