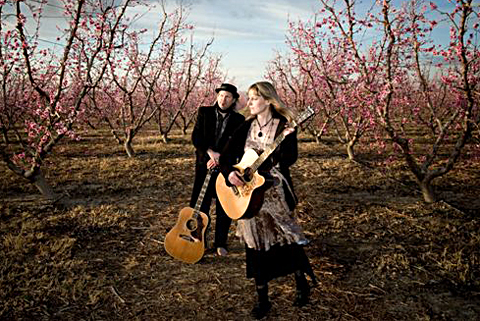 Make no mistake, the buzz about California based folk duo, emith, may just be starting, but it's already developed a life of its own—and their debut Fogbound Child Music CD, '13 Seasons', won't be in record stores or available on the internet until March. Attempting to get a handle on emith's compelling blend of folk, blues, country and other eclectic musical strains is no easy task. That's because Carol Ann Ives and Stevie Gurr, its principals, have allowed their diverse influences to surface, often unexpectedly, at various points throughout the record. One critic, after absorbing emith's atmospheric live acoustic set, said simply "…not your father's folk music."
Ives and Gurr may approach their music from different perspectives, but when they get together it quickly becomes evident that their energy, passion and preparation is decidedly single-minded. Upon closer inspection, emith's music unfolds as both a product of their experience and creative will. If, as the OC Weekly points out, "…(it's) a winning sound and style that is equally thought-provoking and catchy," it's because these two musicians live and breathe it 24/7. Whereas Gurr displays a spontaneous, feel-oriented approach, he backs it up with an encyclopedic knowledge and appreciation of musical history and tradition. A veteran guitarist and harmonica virtuoso with credits ranging from seven years recording and touring with Elvin Bishop and Dr. John to individual pairings with Don Henley, Zigaboo Modeliste and Otis Clay, Gurr doesn't like to dissect the music, just play it.
Ives on the other hand takes a more studious approach to the duo's work. "I keep a pad by the side of the bed, and a hand held digital recorder in my purse. I record lines of text, snippets of melodies, a guitar riff, whatever strikes me as compelling," she explains. She is emith's primary writer (eight of the '13 Seasons' songs are hers). She collaborated on three other tunes: "Empty Your Pockets" with Jeff Straker, "Stone Fences" with Swedish Grammis Award winner (equivalent to our Grammy) Merit Hemmingson, and "I've Got My Baby" with Gurr. "I love co-writing and the force you get from working with another person," she says. "You can't be complacent. The other person brings his own thought and vision and may disagree vehemently with you. It forces you to corral your energy, defend the choices you feel strongly about and be open-minded at the same time."
Ives and Gurr began discussing their plans for the new album with producer Sheldon Gomberg and the trio eventually shaped and executed the emith master plan utilizing Carriage House Studios in Silver Lake along with other facilities and a variety of players to bring their vision to life. One of their first decisions was to anchor their studio sound with live drums. Gomberg, who had worked previously with Warren Zevon, Five For Fighting, Rickie Lee Jones and Beck, tapped Pete Thomas (Elvis Costello) for the task. That set the bar extremely high for the rest of the cast, but each participant was worth his/her weight in musical and spiritual gold: keyboardist Jeff Young (Sting, Jackson Browne), percussionist Danny Frankel (Laurie Anderson, Jewel), banjo legend Cody Bryant, jazz drummer Kendall Kay (Kenny Burrell, Phil Upchurch), violinist Stevie Blacke (Weezer, Colbie Caillat, Dan Hicks), French horn specialist Probyn Gregory (Brian Wilson Band), guitarist Mark Goldenberg (Jackson Browne, Linda Ronstadt), keyboardist Phil Parlapiano (Rod Stewart, John Prine), B3 organist Neil Larsen (Leonard Cohen, Greg Allman), percussionist Luis Conte (Madonna, Michael Jackson) and drummer percussionist Karen Teperberg (Chris Botti, Sting). Gary Platt (Bon Jovi, The Cult) mixed most of it. Gomberg mixed two tracks on his own, and engineer David Bianco (Santana, Natalie Merchant), who assisted Gomberg, mixed one track. Joe Gastwirt added the finishing touch and mastered '13 Seasons'.
When things get intense Carol puts it all in perspective: "We're after musical authenticity, but still, at the end of the day, it's entertainment, so we try to retain a sense of humor about the whole thing." Stevie backed Bo Diddley a few times and recalls overhearing these words of wisdom from the rock icon: "I ain't a fightin' man, but if I run don't catch me."