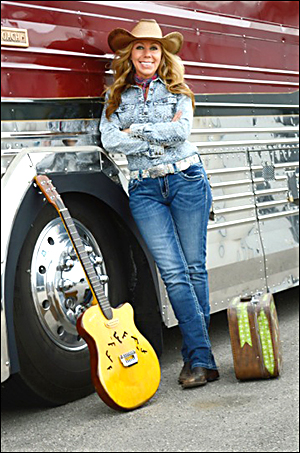 Eli Barsi was born in Canada and raised a farm girl on the prairies of south eastern Saskatchewan. At the youngest age she tapped into her natural musical talents and became self taught on several instruments, vocals and writing music.
Her devotion and passion to pursue music professionally led her to Nashville to hone her songwriting skills and make contacts, which was the start of many years in the business, performing full time, writing, recording, and learning the art of entertaining.
Now, after 3 decades of working as a professional musician Eli has appreciated independent achievements in Canada and the US with radio charting singles, CMT videos, high profile performances and numerous awards recently, including the International Wrangler Award for ' Best Composition ' for the title cut from her latest album, "Portrait Of A Cowgirl".
The new album captures Eli's best qualities as a songwriter and vocalist. The 12 tracks on the album combine collective themes of western lifestyle, rural sensibility, and prairie passion. Eli's thought provoking lyrics with road savvy influences meld together the unique genre combinations of country, western roots & western swing with a foot in rockabilly.
Top shelf musicians from throughout North America and the unlikely partnering of instruments like banjo and B3 organ, complemented with choice production fashions a diverse and pleasant listening experience.
This CD is Eli's 13th album and it has already received numerous accolades and reviews. Eli looks forward to upcoming opportunities of traveling abroad to perform shows and promote her new music.