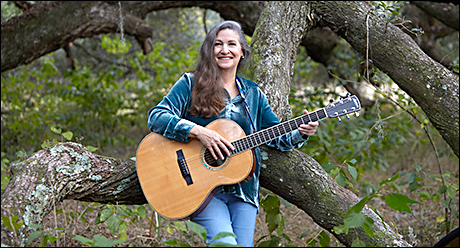 In Elaine Mahon's newest release, "Reach For The Stars", she does just that. Mahon, a Ph D in astronomy, lets her astronomical perspective shine through in this cohesive collection of personal songs. The new album continues to build on the universal themes of life, nature and love that Mahon explored through story and myth on her 2013 release "Rise". With this new release, Mahon steps into her mastery as a songwriter, with songs that will be recalled again and again in one's memory.
Mahon weaves her stories throughout the release with tracks like "Lean Into Love", a sweet and powerful song of how to reach out for love. Love is also explored from a familial point of view and sung from a mother's perspective, as in "Afterglow", "You Are Not Alone" and "Reach For The Stars". Bringing in her affinity with nature and science, Mahon celebrates her love of the earth. Listen to "Look Up", the beautifully crafted "When My Mother Sings", "Denali" and "Sweet Florida", an environmental call to action for her home state. Listen on and you'll hear from a road weary traveler, of journeys through grief and uncertainty, and of redemption and hope found in a field of fallow ground.
"Reach For The Stars" is Elaine Mahon's 2nd release through the Gatorbone label. Elaine's vocals and delicate fingerstyle arrangements on acoustic guitar are complemented by accompaniment from the same array of talented musicians that played on her 2013 release, "Rise", Lon Williamson on bass, Gabriel Valla on guitar, mandolin and mandocello, Jason Thomas on violin, Hannah Alkire on cello, Penny Nichols, Elisabeth Williamson, plus her son, Sam Mahon, on harmony vocals.
Mahon lives in her home town of Gainesville, Florida, with her husband of more than 30 years with whom she has raised a child, climbed mountains, canoed great rivers and backpacked deep into wilderness areas. In addition to performing around the Southeast, Elaine is co-founder and host of Sandhill Stage, an acoustic music series which benefits 2 land conservation nonprofits. Elaine Mahon may be reaching for the stars with this release, but it's clear that her feet are deeply rooted in her beloved mother earth.