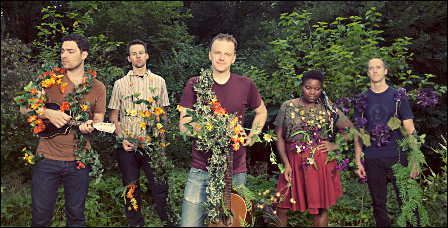 "Red", the 2nd album in Echo Bloom's Colors trilogy, finds the band wrapping their songs around a core of country and rock, combining feedback-drenched guitars and thundering drums with orchestral strings and banjo into a unique mixture that's equal parts Tom Petty and My Bloody Valentine.
Echo Bloom, led by Kyle Evans, has become a road-hardened group after the release of their 2015 record "Blue", which No Depression described as 'a masterpiece'. The band embarked on several extensive tours that brought them across Europé and the US, getting the band into a tight recording unit.
After bouncing between Washington DC, Los Angeles and San Francisco, Kyle Evans eventually caught the muse he was searching for in Berlin. Completely submerged in the German culture, Evans found inspiration in dusty libraries along the Spree and long, quiet bike rides through the city. He holed up in an apartment and woodshedded for months, the seclusion allowing him the perfect environment to completely focus on his work.
After a few months, he left Germany with material for 3 different records. Because each album seemed to fit into slightly different genres, Evans began thinking about them as different seasons, different countries and finally, different colors.
"Blue" would be the more folkoriented of the group, "Red" would be more country rock and "Green", the 3rd and final one ofthe trilogy, would be more classic pop.