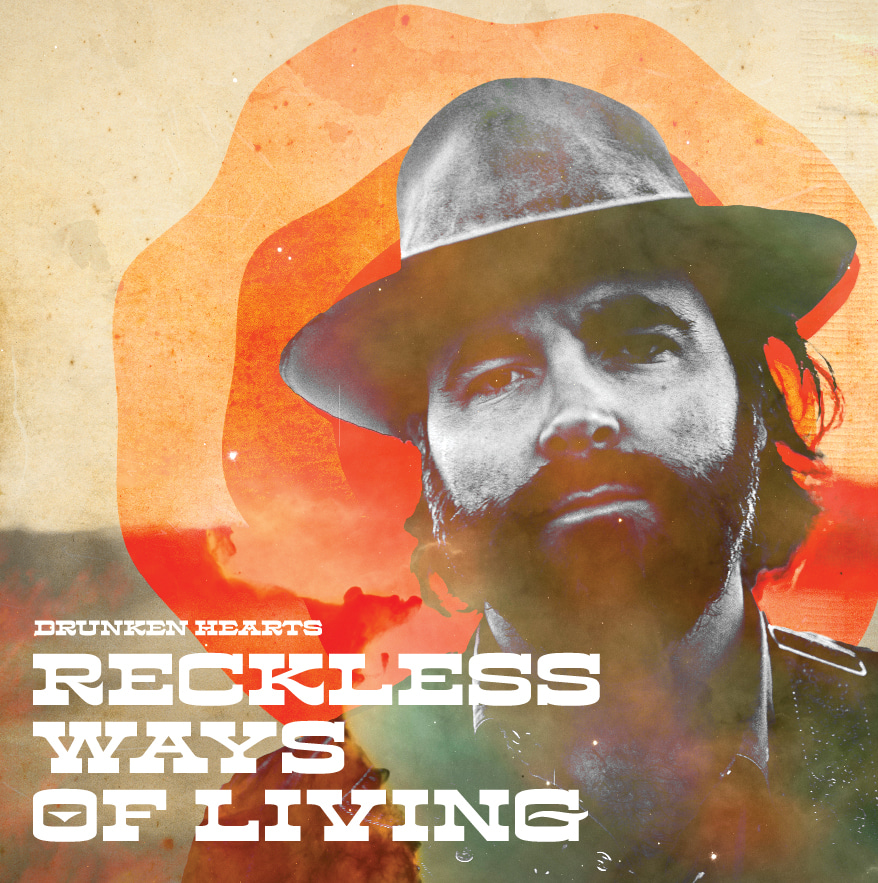 "'Reckless Ways Of Living' takes a left turn and dives deep into country music with one foot inside the dark psychedelic realm." ~ Justin Picard, Music Marauders
"If 'Reckless Ways of Living' is about redemption, then Andrew McConathy should consider himself duly redeemed. Not that what he did previously wasn't good, it certainly was, but this broader americana canvass gives his undoubted qualities far greater scope." ~ Lyndon Bolton, Americana Music Show
For the new Drunken Hearts album, singer songwriter Andrew McConathy utilized longtime Drunken Hearts drummer Alex Johnson, guitarist James Dumm, and keyboard player Tyler Adams, "3 of the hardest working musicians I've ever seen", bandleader McConathy says. While Drew Packard handles most of the bass playing, Adrian "Ace" Engfer happened to be in town to record 2 songs, borrowing Vince Herman's upright bass for "Dark Times" and producer Dave Pahanish's electric Mustang bass on "Eventually". Leftover Salmon's Herman co-wrote "100 Proof", and String Cheese Incident's Keith Moseley co-wrote "Never Say Goodbye". Other contributors include American Aquarium's Neil Jones on pedal steel, international banjo champion Kyle Tuttle (Molly Tuttle & Golden Highway), Lindsay Lou sing backing vocals on "Forever Highway", and fiddler Jason Carter (Del McCoury Band) plays on "Dark Times".
"Dark Times" fits a steady theme throughout the record, with McConathy aiming to "stick to a motif, to have some sort of common thread", as he explores death and his own quest for redemption. On album opener "Never Say Goodbye", he addresses "the remains of my rowdy ways", The love gone wrong song, "Fall From Grace", remembers when "our love was a spark, we watched it burn away". Yet, it's on "Good Graces" where the lyrics dig deeper emotionally, even if the song has what McConathy calls "this weird Dropkick Murphys, Irish Bob Dylan kind of vibe".
Although Andrew McConathy entered Middlebury College in Vermont as a member of their Division I ski team, halfway through his freshman year he knew it wasn't for him. Seeking advice via email conversations with Grateful Dead lyricist Robert Hunter, he soon decided to become a musician, taking a hiatus from college to write and play songs. 4 Drunken Hearts albums and nearly 20 years later, McConathy has given us his best collection of songs yet with "Reckless Ways Of Living".